Report: Dwight Howard expressed frustration with D'Antoni to GM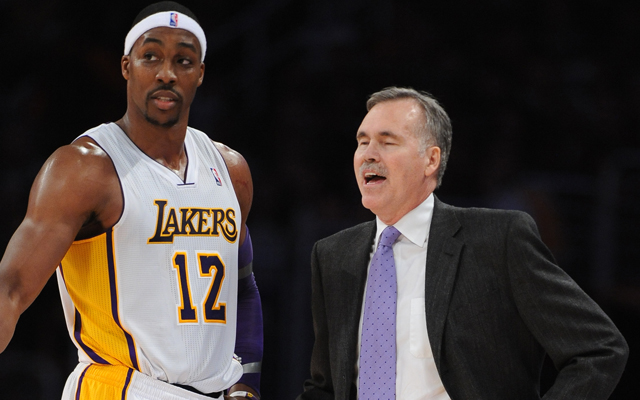 ESPN reports that Lakers All-Star center and soon-to-be free agent expressed frustration with coach Mike D'Antoni to Lakers GM Mitch Kupchak in an exit meeting in recent weeks.
While he hasn't had anything to say to the press, Howard had a lot to say to Lakers general manager Mitch Kupchak back before the relative silence, however.

According to sources with knowledge of the situation, part of the discussion between Howard and Kupchak centered around Howard's frustration with D'Antoni -- particularly how the center felt marginalized as the coach looked to Bryant and Steve Nash for leadership and suggestions and discounted Howard's voice.

D'Antoni chose not to retain assistant coach Chuck Person, a Howard confidant, on his staff for next season. Also, Lakers assistant coach Steve Clifford, who was with Howard in Orlando for five seasons before both of them came to L.A. last year, has become a hot head coaching candidate, interviewing with Milwaukee and receiving interest from Charlotte.

One source described the potential departure of Clifford, coupled with the loss of Person as "removing the buffers," between Howard and D'Antoni, "which is a bad thing."
via Sources -- Dwight Howard voiced displeasure with Mike D'Antoni to GM - ESPN Los Angeles.
Much of this vibes with what we knew before. Howard has always been very careful with his comments about D'Antoni since he was hired, up to and including expressing disappointment, though more couched than Pau Gasol, about the decision to hire D'Antoni instead of Phil Jackson. There were multiple reports that Howard has disagreements about how he was being used in D'Antoni's system, including complaining about his number of shots on the box score. Entities with ties to Howard have repeatedly complained about D'Antoni on Twitter.
Still, there's a very clear line between "expressed frustration" and "demanded the Lakers fire." You can want your coach to coach you differently without wanting him fired. For example, Dwight Howard wanted Stan Van Gundy to coach him differently for years but that didn't mean he wanted him fired... until he did. OK, bad example.
If Howard does lay down the ultimatum saying it's D'Antoni or him, the Lakers will already have D'Antoni's office cleaned out beore the phone call is finished. The Lakers cannot afford to lose Howard, and with Ken Berger of CBSSports.com reporting that Howard is seriously considering both the Rockets and Mavericks, the pressure will be on to make him happier than he was his first year in the purple and gold.
The leadership thing is bizarre. It's Kobe Bryant and Steve Nash, for crying out loud. You really want D'Antoni to turn to the guy doing impressions and fart jokes in the corner? The guards run the offense, and Bryant was the Lakers' best player this season. Howard's inability to give assent to his role in a team structure and prideful demands continue to hold him back, regardless of whether D'Antoni is the right coach for the Lakers.