Heat-Pacers Game 3 Preview: How does Miami respond to defeat?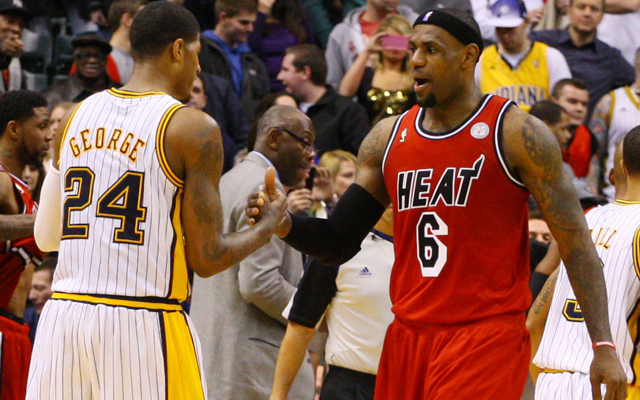 A preview of Sunday night's all-important Game 3 of the Eastern Conference finals between the Miami Heat and the Indiana Pacers.
1. Where We Are: The Pacers turned Heat forward LeBron James into a turnover machine in the final minute of Game 2 on Friday night and snuck out of Miami with a 1-1 split like a thief in the night. It was a crazy 48 hours of Eastern Conference basketball. From Paul George's improbable three to Roy Hibbert not being on the floor when LeBron hit the game-winning layup to all of the discussion about Frank Vogel's decision to George baptizing Chris Andersen at the rim to LeBron's turnovers, we had a pretty crazy opening set of games for the ECF. The Pacers wanted to at least grab a split heading back to Indiana and accomplished that in spectacular fashion.
2. The Big Number: 62.7. The Pacers have led the Heat in 62.7 percent of the minutes through two games. The Heat have led just 20.0 percent, and the score has been tied for the rest of the minutes. The Pacers have completely outplayed the Heat in the majority of the first two games in a hostile, road environment. But which team should feel better about itself? The Pacers could easily be up 2-0 heading home and have played better basketball. The Heat, even despite playing so poorly, could also be up 2-0 heading to Indianapolis. Does either team have an advantage? Do we assume one team will click and play a better game in Game 3 than what we've seen so far?
3. Key Adjustment: Get the outside shots to fall. Ray Allen has made just one of his six 3-point shots in the first two games (not to mention just half of his free-throw attempts). Backup Norris Cole has made just one of his four threes. Shane Battier is 0 for 6 from downtown. The Heat just can't knock down outside shots against the Pacers. Indiana was the best 3-point defense in the NBA this season, but a lot of the looks that Miami can't make seem to be fairly uncontested. Do the Pacers just get in your head and make you think you have to knock this shot down or you're not going to get a better look later? Is their defense that intimidating that it puts extra pressure on you to make everything? The Heat are getting good looks from the perimeter, but if they can't find a way to calm their nerves, settle their motion and hit from outside, they'll have to be perfect in just about every other aspect of the game.
4. The Big Story: The Miami Heat look vulnerable. The Heat weren't supposed to lose a home game to the Chicago Bulls, and they dropped Game 1 of the second round. They weren't supposed to be beaten by the Pacers and yet, they dropped Game 2 and almost dropped Game 1 in the process. We've seen Miami try to withstand poor play in the first two games, but when are they going to show their talent advantages and their ability to play "their game?" That's what Erik Spoelstra preaches in all of his interviews. They have to play "their game" and stay true to "their identity." Well, their identity looks vulnerable because they can't play their game. Indiana won't allow it. How do they overcome and prove they're the defending champions for a reason? It could be mostly mental at this point.
5. The Facts: 8:30 p.m. ET tipoff. Indiana's Sam Young is questionable with a sprained ankle.