Nightly Grades 5.25.13: The Spurs keep executing for the win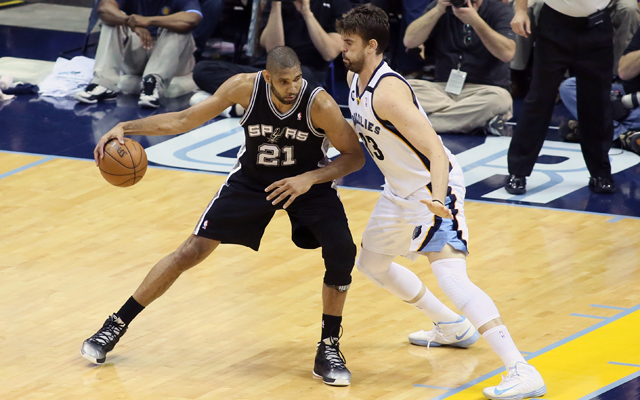 Each night, Eye on Basketball brings you what you need to know about the games of the NBA. From great performances to terrible clock management, the report card evaluates and eviscerates the good, the bad and the ugly from the night that was.

Team
Grade
Analysis
A-

Eight turnovers and four made baskets in the first quarter. A 16-point deficit after the first 12 minutes. And yet the San Antonio Spurs' machine would not be deterred. The Spurs kept chipping away at the momentum the Grizzlies were accumulating. They kept chipping away using execution, trusting their system, and refusing to flinch in the middle of an arena that wanted to see them falter. By halftime, the lead was cut to four and the Spurs were calmly back in the game.

After their rough start, Tim Duncan and Manu Ginobili kept the team afloat while Tony Parker gained his rhythm. The defense tightened up, and San Antonio just kept executing. They carried all of their momentum into overtime, where the Grizzlies just couldn't muster the legs and energy to keep putting offensive possessions together. Now the Spurs are up 3-0 following the 104-93 victory and looking for some rest before the NBA Finals.

B+

The Memphis Grizzlies certainly played a good game. Even though they had the overtime loss, there were a lot of things to be happy about for this team. Zach Randolph is still struggling from the field, but he was tenacious on the boards and kept trying to find ways to troubleshoot his problems. Marc Gasol and Mike Conley both struggled to make shots, and yet they managed to keep the Spurs from completely taking over the game throughout most of the second half.

Unfortunately for the Grizzlies, it eventually caught up to them. Once Quincy Pondexter fouled out, they lost a solid defender and one of their few floor spacers. From there, it was treading water until the Spurs' undercurrent took them to the bottom.

B-
The crew of Derrick Stafford, Joey Crawford, and Ron Garretson was actually pretty good. There were a few questionable/missed calls here and there. But for the most part, you didn't really notice them during the majority of this game. That's a good thing. The less you notice the refs in a game, the better they did their job.