Spurs-Grizzlies Game 3: Everything and a little bit of Manu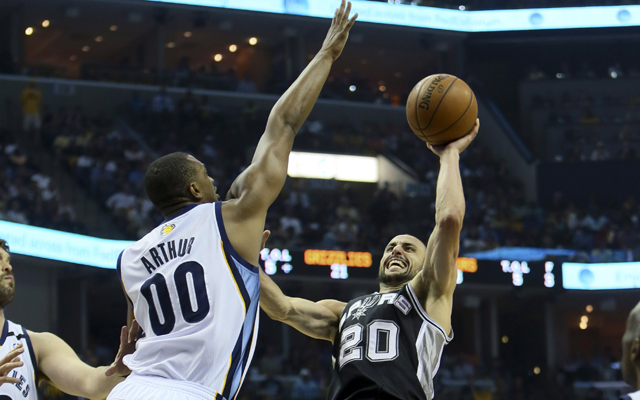 MEMPHIS, Tenn. -- In the Spurs' Game 3 win over the Grizzlies on Saturday night in the Western Conference finals, it wasn't so much about any one thing. It wasn't Tim Duncan taking over or Tony Parker scoring zillions. It wasn't one play, one decision, one maneuver. It was everything. This series, which now has the Spurs up 3-0 and having virtually-but-not-technically clinched their first Finals berth since 2007, has featured different things, and all of them from the Spurs.
Game 1 was the blowout, a dominating offensive explosion. Game 2 was the survival game, taking Memphis' desperation and outlasting it. And Game 3 was the proof in the pudding. Off to a horrible start, on the road, against an amped opponent, the Spurs clawed back into it with a little bit of everything. Rebounding. Defense. Shooting. Steals. Ball control. And always, execution, execution, execution. You get them out of their rhythm for a quarter, they don't change, they don't adjust, they just hang together.
It was everything, and a little Manu.
Manu Ginobili was the shining example of the Spurs in Game 3. He didn't lead the game in scoring, assists, rebounds or steals. But he contributed in various, expansive ways. Nineteen points on just nine shots, seven rebounds, five assists and a steal. He helped weather the storm in the first quarter. He came up big when they needed it. He changed the pace, and he grabbed offensive rebounds, even off missed Spurs free throws. It was everything. It was the Spurs.
"He hasn't been shooting the ball well, but he's such a competitor," Spurs coach Gregg Popovich said. "He knows that there are other things that he can do in the game. He's had some games where he's had a lot of assists and he's hitting the boards a lot.
"Manu's boards and overall basketball knowledge and play are really important to use, even if he's not shooting it well."
The Spurs have now taken a commanding lead and done so winning three different types of games. Ginobili credited his team's toughness and versatility with coming out on top each time.
"Yeah, very different wins, different type of games and, as you said, it's just a lot about who we are and how we do it now."
Ginobili, of course, remained adamant that the deed was not done.
"Every opportunity you have to close a series you've got to take it."
The Grizzlies came away from Game 2 on Tuesday stunned because they had a chance and came away empty. The Spurs have taken this series from any chance of a Grizzlies win with defense, shooting, toughness and, like I said, execution, execution, execution.
It has been everything. And a little bit of Manu.