Nightly Grades 5.26.13: Miami Heat reminds us they're still awesome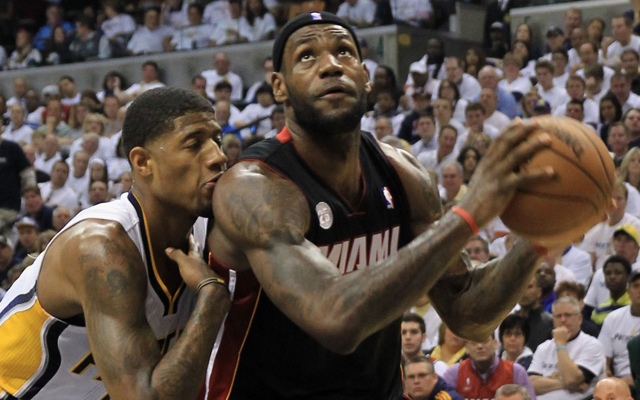 Each night, Eye on Basketball brings you what you need to know about the games of the NBA. From great performances to terrible clock management, the report card evaluates and eviscerates the good, the bad and the ugly from the night that was.

Team
Grade
Analysis
A

In case you forgot, the Miami Heat are still a 66-win team and the defending champs. They put on an absolute clinic in this game, offensively, dropping 70 points in the first half against the best defense in the league, 114 points total, and shot 54.5 percent from the field. Dwyane Wade set the tone early and often with his 18-point, eight-assist performance, LeBron James dropped in 22 points, and the Heat turned the ball over just five times for the entire game.

The control of the pace and the flow of this game by Miami was just impressive. The Pacers at home are an incredible force that shuts down opposing offensive efforts. But that didn't stop the Heat from treating this game like it was a scrimmage. They dictated every aspect of this game and shut down the majority of Indiana's attack. They've stolen home-court advantage back in the blink of an eye.

C+

The Indiana Pacers received a 41-point, 27-rebound effort from the Roy Hibbert-David West combination. The Pacers hit 57.1 percent from 3-point range. They also had 44 free-throw attempts and turned the ball over just 11 times. These are all things the Pacers would love to see in a box score.

Yet they still got blown out by the Miami Heat and didn't stand much of a chance for most of the second half. Paul George was inconsequential, and the Pacers' bench practically didn't show up at all. This is not the kind of game the Pacers should have after stealing a 1-1 split in the first two games in Miami and taking home-court advantage back to Indianapolis. It's just a stunning defeat considering how good some aspects of their game were.

B
Referees Ed Malloy and Ken Mauer were hardly noticed in this game. That alone is worth a grade of a B, right? We had too many fouls in this game with 55, but the physical nature of both teams means they weren't too overprotective with their foul-calling. It didn't totally kill the flow at all, although the blowout nature might have had something to do with it. Solid effort from this crew.