Spurs-Grizzlies Game 4: Grizzlies see the ideal from Spurs in defeat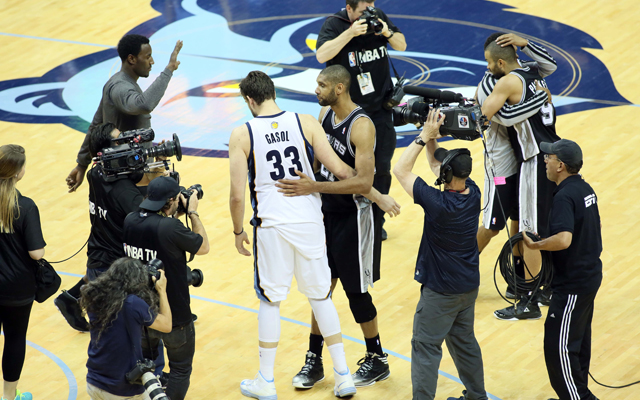 MEMPHIS, Tenn. -- Mike Conley just shook his head.
It was that kind of series.
"You just have to take your hat off to (the Spurs)," Conley told me after the Grizzlies were swept to end their best season in franchise history. "They just do the same things, so consistently, at such a high level. It was just too tough for us."
The Grizzlies aren't a young team. But they're not an old team, and they've gone through shifts and changes over and over for three years. Against the Spurs, they learned what can happen when a team has mastered a level of execution so high that an opponent cannot overcome it.
Maybe 2011 -- when the eighth-seeded Grizzlies shocked San Antonio -- was just a case of the Spurs not seeing them coming. Maybe it was a few subtle shifts. Gregg Popovich was adamant after the game that this did not "feel" like a sweep.
"We didn't kick anybody's butt," he said.
These Grizzlies never had a chance against these Spurs, never won a game, and only had a lead for a half in the entire series. Outside of that, it was all Spurs, all the time.
The Grizzlies have a talented roster that believed in the club's approach, played together, played tough and played hard, more than anything. The word coaches love is "competed." The Grizzlies competed.
"We had a great season, and they battled, and they battled tonight, and I was proud of them," coach Lionel Hollins said.
Quincy Pondexter, one of the younger Grizzlies who stepped up for them throughout the playoffs, offered what he thought the team learned from the series.
"I just think we learned that winning isn't easy, and winning championships is one of the hardest things you can possibly do. I think our guys dug really deep to get as far as we did, and San Antonio is a tremendous team. And we're going to take a few pages out of their book and move on, and hopefully we do a lot better next year."
Looking back, you could tell this series was over after Game 2. Despite the Grizzlies having made a massive comeback in San Antonio to force overtime, the tone in the locker room was despondent. The Grizzlies were just a little bit awed by their respect for how well the Spurs played. They never had a way to get under the Spurs' skin, they never had an emotional pressure point to push themselves.
The Grizzlies needed a Clippers implosion and a Russell Westbrook injury (likely) to make the Western Conference Finals. But that doesn't take away what they accomplished.
They're a young franchise with experienced players who are still learning what it means to win consistently as a group. But if they want to understand how to get one step further, they need only look at how their season ended.
There was no bad blood from Memphis toward San Antonio. No bitterness. You can't feel that way about the Spurs.
They're too good.
And that's where the Grizzlies know they need to get to.