Bulls VP John Paxson says Derrick Rose received unfair criticism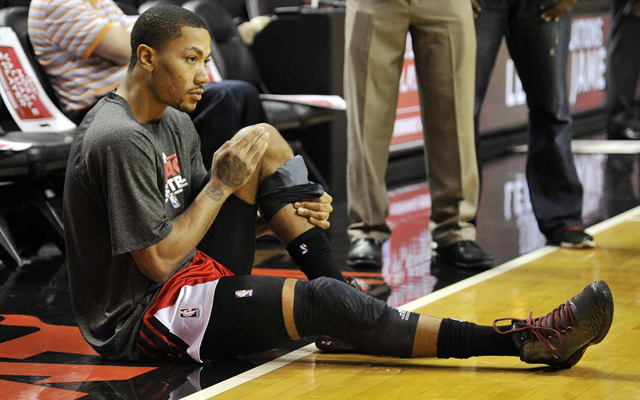 Chicago Bulls point guard Derrick Rose missed the entire 2012-13 regular season and playoffs while his team fought on without its star player. They outlasted the Brooklyn Nets in the first round of the playoffs before falling to the Miami Heat in five games in the second round. It left a lot of people wondering where the Bulls would have been this season if Rose had come back in January or February or March or April or even May.
Fans and pundits wanted to see Rose's triumphant return and not have to wait until next season before seeing him play basketball again after tearing his ACL on the first day of the 2012 playoffs. But Rose never made that commitment to return, instead opting for the long-term approach of looking out for the future of his career and the organization by making sure he was completely ready both mentally and physically before he returned.
Bulls executive vice president of basketball operations John Paxson is fine with Rose's decision not to play and believes he took unfair criticism for his decision. Via the Chicago Tribune:
Paxson, the Bulls' executive vice president of basketball operations, told WSCR-AM 670 on Sunday that Rose "took a lot of unfair shots" from critics who felt he should have returned late in the regular season or during the playoffs.

"It's the way of the world now, the social media, everything that goes on," Paxson said. "Everybody wants to point a finger and blame and accuse and that kind of stuff. And the reality is, Derrick and us, we were all on the same page from the beginning. If he was ready to play mentally and physically, he was going to play. It didn't happen this year."
Paxson has a point, and maybe the criticism was unfair toward Rose. Perhaps the process of letting it be known whether Rose could play should be the target of everybody's ire and frustration instead. After watching Joakim Noah hobbling through Game 1 of the Nets-Bulls series, I wondered what it was like for Rose to watch his battered teammates gutting through their own pain and injuries for the team. It wasn't something that I felt wholly comfortable questioning, but I couldn't get the question out of my head as I watched a 7-footer with plantar fasciitis trying to dunk on opponents and turn them away at the rim.
Really, the problem might have been with the team and its medical staff. As Tom Ziller of SB Nation pointed out in a stellar look into the recent medical history of the team, there have been enough incidents with various injured Bulls to make it seem reasonable for Rose to be overly cautious and trust his own head rather than the trained professionals. Perhaps the problem wasn't with Rose but with the team consistently letting us know that Rose was healthy enough to play and that the decision was his. The team always seemed to leave the door open in our minds that Rose might come back that month, that week, that night to rescue the Bulls.
We hoped for the gratification of seeing the player whom we love watching return to the court and throw down a thunderous dunk to assure everybody he'd be okay. We saw Ricky Rubio of the Minnesota Timberwolves come back and dazzle everybody with passes and fun play. We saw Iman Shumpert of the New York Knicks come back and knock down 3-point shots with a couple of athletic plays mixed in.
Rubio injured his ACL a month and a half before Rose did and will have ended up being back 10 months before Rose plays his next game. Shumpert injured his ACL on the same day as Rose and will have ended up coming back roughly nine months before Rose's return to the court. But the heavier expectations that will be lumped onto Rose probably contributed to him wanting to avoid the up-and-down periods that those other two rehabilitated guards went through during their respective comebacks.
The blame that Rose has received has been unfair to him. It's the entire process and world of expectations that should probably get a second glance in this whole ordeal.