Heat's Ray Allen and the compartmentalization of clutch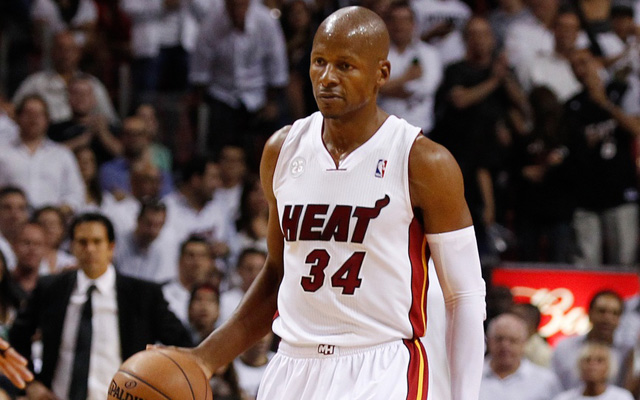 MIAMI -- The conversation around clutch players in the NBA is a divisive discussion. When do the clutch moments actually exist? Is it only on the final shot of a game? Only in the last minute? Is it in the last five minutes of a close game? Can a made shot that sparks a run when you're down 10 with six minutes to go be considered clutch? Are all moments of a Game 7 considered clutch in the do-or-die environment?
Which players are clutch, and which players run from the moment?
My favorite line in the movie The Departed is when Leonardo DiCaprio's character says to his psychiatrist, "You sit there with a mass murderer. A mass murderer. Your heart rate is jacked, and your hand ... steady. That's one thing I figured out about myself in prison. My hand does not shake ... ever."
Ray Allen's hand is steady; I'm not sure anybody would ever argue that it shakes when he has to take a big shot. His feet set to spring his still body into the air. His hands calmly and quickly move the ball to the top of his release. His squared shoulders and feet provide the solid base of rhythm on his shot. And when he's flicking his wrist, you're surprised if the ball doesn't rip through the net.
If we're judging Allen on the widely accepted definition of clutch moments being in the final five minutes of the fourth quarter and overtime with a margin of five points, Allen is as pure as they come. This season, Allen made 46.2 percent of his 3-pointers and 54.8 percent of his shots in clutch moments with the Miami Heat.
It's one of the big reasons that they tried so hard to bring him to their squad. He stretches the floor to give his teammates the room to operate. If you help off of Allen, he'll get the ball and be ready to knock down the shot.
"When you get a team playing on their heels and being passive," Allen said after the Eastern Conference finals Game 7 victory over Indiana Pacers, "we're able to get so many opportunities where we start running and they start moving inside. LeBron's attacking. That's when I get in position to get a shot up.
"That, to me, is I kind of salivate on it when LeBron is attacking so much. I know he's ready to pass. Sometimes he doesn't because he's got so much and he's attacking so hard. We, as shooters, just have to be ready."
The process of being ready can be tricky for some because doubt is a natural feeling to creep in when you're not taking advantage of the opportunities. Nobody makes 100 percent of their shots. And if you're in a shooting slump, a streak of missed moments in the clutch can wear on your confidence. In Game 1 of the Eastern finals, Allen missed a big free throw near the end of regulation that gave the Pacers life. He had one more attempt and knocked it down because he has learned to separate misses from the next opportunity in front of him.
"Sometimes, it's just off," Allen explained. "You miss. But what you can't do, you can't take that emotion into the second one. You've got to cleanse yourself of it. Even if you make it, the first and second free throws, even if they come in a package, they're separate from each other. You've got to put in the work on each of them."
This is where his infamous schedule of preparation comes into play. If he misses a big shot, he'll use the practice court and his practice time as a sort of reckoning to get his muscle memory back on track and his thought process free of doubt. Repetition is his confidant; structure is his getaway from the moments of failure.
"You just have to revisit this floor," Allen said. "I call it the lab. You've got to make sure that you spend your time in here. You've got to make sure you do what you have to do, especially this time of year. You have important situations out there on the floor. You have to be willing to answer the bell."
Answering the bell has never been a tough task for him because of his ability to compartmentalize one moment from the next, good or bad. A streak of successful shots isn't necessary for his confidence to be high in big moments. Trusting the work that he has put in over the course of his playing career is enough for him. And using the missed clutch shots as fuel instead of fear is why he's one of the deadliest shooters of all time.
"As much as I think about people in my career can talk about all the shots that I hit to win games, I don't remember those," the NBA's all-time leading 3-point shooter said. "As much as people talk about me celebrating, I remember the ones that I didn't make. That's what keeps me in the gym."
Ultimately for Allen, the past will never be as important as either the present or the future, when he's thinking about the next big shot that he has to take. The past is simply used to put in the work in the lab, while the moments ahead of him are a blank slate ready to be filled with his next successful attempt.
"Yeah, because you guys may talk about what has happened," Allen said. "The moments are always before us; the moments are what we always have in front of us. And once they're gone, there's nothing you can do anymore. I don't live with regrets, so as I look at these moments in front of me, I say, 'What can I do with this moment that I have in front of me?' and try to make that moment better every time.
"So I'm always going to be prepared. I'm always going to be ready to take the shot. Whether it goes in or not, I'm going to give myself the best chance, opportunity for it to go in because I'm going to be ready. That's all I can ask for, and that's all I've done my whole career."
It's this mentality that helps a shooter's hand not shake when he's just 7 of 24 through the first six games of a conference finals against the best defense in the league and then hits 3 of 5 from downtown in Game 7 to help move on to the NBA Finals.
It's ignoring the emotions of makes or misses and strictly hunting for the next chance to make an impact that makes Ray Allen clutch, no matter what your definition of that moment is.