NBA Finals: Spurs take a 3-2 lead to Miami, 114-104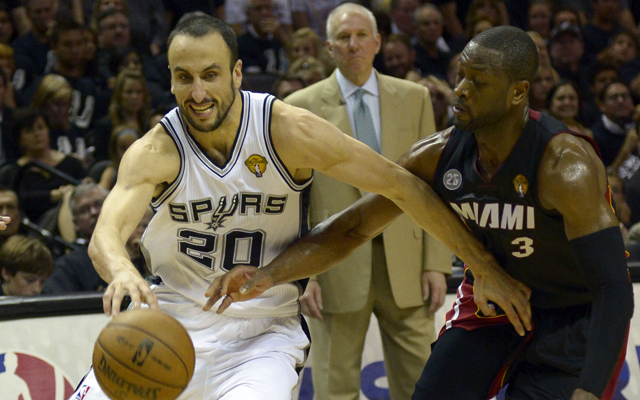 SAN ANTONIO -- The Spurs are now one win away from a fifth NBA championship.
Desperately needing to bounce back in Game 5, the Spurs relied upon a resurgent Manu Ginobili to take a 3-2 series advantage, 114-104.
The Spurs' biggest lead of the game was 20, and it was in the fourth quarter, but the Heat were able to cut it to nine with two minutes left. Too little too late, however, as the Spurs eventually held on despite the frantic Miami push, sealed by a dagger Danny Green 3 with 59 seconds left.
Gregg Popovich made a last-minute pregame decision to start Ginobili -- who had struggled mightily the previous four games -- and it paid off big time. The 35-year-old Argentinian hit the game's first shot -- a 3 -- and sparked an impressive 14-2 run to finish the third, all points coming from him.
Ginobili finished with 24 points on 8-14 shooting and 10 assists. Tony Parker, also excellent despite playing on a bum hamstring, finished with 26 points on 10-14 shooting and five assists.
The Heat couldn't keep pace with the high-octane Spurs, who found space from 3 again (9-22 as a team) and shot almost 60 percent from the floor. Dwyane Wade was once again very good (25 points, 10 assists, four rebounds) and LeBron James, while not his normal spectacular self, had a quality game (25-8-6).
Hard not to hark back to the 2011 Finals a bit when the Mavericks took an all-important Game 5 and then closed the Heat out on the road in Game 6.
The question is, can the Spurs be the next Texas team to close out in Miami?