Breakdown: The play that set up the scramble for Ray Allen's three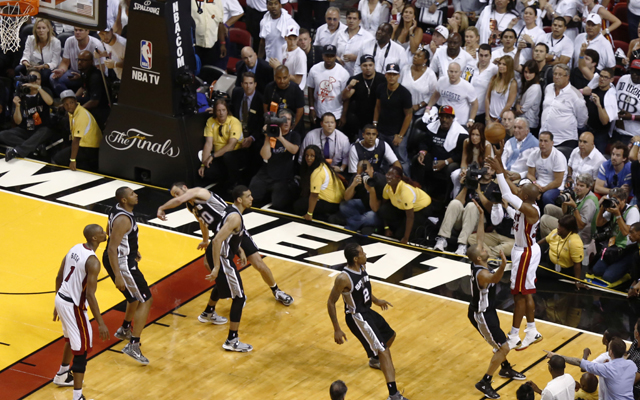 Ray Allen lives in a world of chaos at all times. The pressure of the moment is always trying to distract him, even more so than the world's best athletes flying at him in an attempt to throw off his perfect shooting form. Because of his role throughout his NBA career -- a role that includes becoming the most prolific 3-point shooter this world has ever seen -- Allen needed to find a way to calm that chaos and pressure.
Since his second year in the league, way back in the 1997-98 season, Allen has been arriving to NBA arenas 3.5 hours early to each game. In that time, he works on his shooting form. Routine is his saving grace, almost a physical mnemonic device to create familiarity in situations that arise in the blink of an eye. It's not necessary for him to do this to stick around in the NBA for 17 years. He was talented enough to do that. But to become a trusted weapon, maybe one of the most trusted shooters ever, he needed to do something to outwork everybody else.
If you take away his rookie season when he wasn't doing this ritual of arriving 3.5 hours early before each game, Ray Allen has spent 4,536 hours before his 1,296 games over his career preparing for moments like he had in Game 6.
"It's tough," Allen admitted when asked how tough it is to make sure everything is set for the final shot he took in regulation to tie the game, "but believe it or not, I work quite often on it. I try to put my body in precarious situations coming from different parts of the floor, different angles to try to get my momentum moving forward."
The shot Ray Allen hit to tie Game 6 with 5.2 seconds left and send it into overtime came from a lot of commotion and a fortuitous bounce off the rim that came right to Chris Bosh. The play to set up the initial errant shot that eventually led to a scramble and Allen's incredible 3-pointers helped give the Miami Heat an advantage on the floor.
Let's take a look at the video:
The first thing you notice is that Tim Duncan isn't on the floor for the San Antonio Spurs. With the Miami Heat desperate for a game-tying 3-pointer, Gregg Popovich seemingly opted to make sure his team could switch out on all shooters without being at a huge disadvantage. Unfortunately for them, that backfired and allowed Bosh to be the only rebounder under the basket.
The start of the final play is a pick-and-pop with Mario Chalmers handling the ball and LeBron James setting the screen. The initial screen action is to get Kawhi Leonard switched off of LeBron James so he has a smaller player to deal with while trying to get his shot. The Heat get Tony Parker switched onto the intended shooter and from there, they're trying to use Bosh to free up James.
Ray Allen trots to the far corner to create space for his teammates and be ready just in case the play breaks down and they have an angle to pass him the ball. Bosh begins trying to get Parker out off-balance with a screen with James coming back toward Chalmers to set his feet, receive the pass, and attempt a good 3-point shot.
For some reason, Boris Diaw flails at the shot even though there is physically no chance of him bothering it in any way. Because he's paying more attention to a shooter he can't reach, it gives Bosh a free lane to the basket where he'll be all alone when James misses the shot. Ray Allen is positioned in the corner.
James' shot gets a high bounce off the rim, which gives Bosh the best chance at using his length and athleticism to secure the rebound. Allen crashed the boards to try to help, but ultimately didn't get in the way of Bosh's rebound.
"I went into the paint to try to get the ball and make something happen," Allen said. "At that point there's no guarantee who is going to get the ball or what may happen. And when I seen [Chris Bosh] get the ball, I just backpedaled right to the 3-point line, and I was hoping I was where I needed to be."
As Bosh comes down with the ball, he actually has three really good passing options. Chalmers is in the opposite corner of where Bosh is looking, LeBron is calling for the ball near the top, and Allen is just a couple feet away from Bosh near the key. Because the defenders are all on his backside or away from his front, it makes the smart, easy play to just go with what's right in front of him. What's in front of him is Ray Allen quickly backpedaling to the corner.
"Whether CB threw me the ball or not, I had to get myself in position where I was ready," Allen said. "Once the ball came off the rim, I just knew to get to the 3-point line. We need a three. Two points isn't going to cut it.
So my mental checklist is really to have my legs ready and underneath me, so when the ball comes, if it comes, I was ready to go in the air."
As Allen moves back behind the 3-point line, he immediately has three players rushing him. But only Parker is going to get there in time. This means Allen can calmly go through his mental checklist, draw what he needs from the thousands of hours of shooting rituals and routines, and go straight into the muscle memory that's netted him the most 3-pointers in NBA history.
"I honestly can say I gave myself a great opportunity, a great chance to make that shot," Allen explained. "And it wasn't unfamiliar to me positionally. When it went in, I was ecstatic. But at the same time, I was expecting to make it."
Parker is able to crowd Allen's release and shooting form, but someone as seasoned as Allen, who has hit so many huge shots throughout his career, isn't going to be worried about a smaller defender crowding his waist. Once it ripped through the net, it was just another clutch shot on a pile of clutch shots that help make up a Hall of Fame career for Ray Allen.
"It's going to be a shot I remember for a long time," Allen said. "There's a lot of shots that I've made in my career, but this will go high up on the ranks because of the situation."
It's these kind of plays that keep a season alive. It kept the Miami Heat from being failures in their quest to repeat as champions and gave them a chance to continue to fight. When they closed the game out in overtime, it forced a Game 7 where both teams will be just one game away from winning the 2013 NBA championship. Perhaps another shot like this one from Ray Allen will give us another legendary moment.
"I've known my whole career sometimes you just get lucky," Allen admitted. "When you win championships, it involves a little luck. That right there was luck shining on our side."
When you have a work ethic as regimented and dedicated as the work Ray Allen has put in for over a decade and a half, you kind of create your own luck, no matter how chaotic the situation.