NBA Finals: Game 7 gives us the closure no other sport can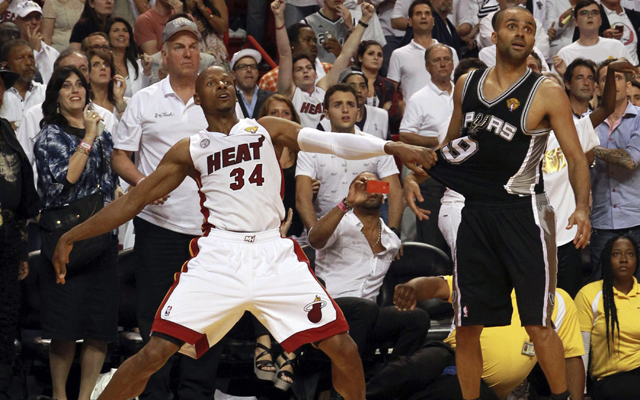 Game 6 of the 2013 NBA Finals was unique in so many ways.
Not only was it one of the greatest Finals games we'll ever get to see, but it personified everything that is great about the sport. Basketball is unique in the same way that football, baseball and hockey are unique. No two sports are alike in the ways that they decide champions.
In the NFL, you can see the lowest seed in the playoffs get through on a series of great singular games. All it takes is one good day to advance. Your best has to be better than your opponent's best on just one day. It adds a certain level of uncertainty and unpredictability to their overall experience, and people eat that up. It's part of the reason it's such a religious experience for people: gambling and fantasy sports are centralized to one major day of the sport.
In baseball, you have to be better than the opposing team over the course of a five- or seven-game series, but it's a series of individual matchups that makes the team concept kind of murky. It's you against the pitcher. It's you against the wind. It's you against the fielder. It's you against your own head. It's always you and the collective nature of individuals that turns out a team concept.
In hockey, you can get the element of anything goes on any given play in a series of back-and-forth, point-counterpoint moments that over the course of a seven-game series can turn into some pretty cool chaos. However, there seems to be this concept of a goalie getting hot and carrying a team that might not be the best team but can play the best postseason. And, with the lack of scoring, you just don't see the same lead swings that you see in basketball.
In the NBA, the chaos is constant. Every possession can bring you something historic. All of the individuals rely on their teammates at all times, creating the greatest sense of team and camaraderie (or a lack thereof) because you're constantly switching from offense to defense to offense and back throughout the course of 90-100 possessions for each team on any nightly basis. But because everything happens over the course of a seven-game series in the NBA, it's really hard to get one team to upset another team if they haven't earned it.
That element can be negated by a key injury, much like in any sport, but talent and structure ultimately are going to win out. There is no real sense of upset. In terms of seeding, you can find it based on the regular-season standings, but the better team will almost always prove themselves and win four out of seven games. There is a purity, a certain validity to the NBA champion each year that is hard to duplicate in the other sports.
It doesn't mean basketball is better than the other sports, per se; it just means it's different in the way it crowns its champion. Game 6 on Tuesday night between the Miami Heat and the San Antonio Spurs showed just how evident this concept of title validation is in the NBA. With the Heat completely backed against the wall, a mere 12 minutes from watching the Spurs celebrate on Miami's home floor like they watched the Dallas Mavericks celebrate in 2011, they took a stand and fought back for a stay of execution.
It was one of the moments that us basketball junkies and nerds daydream about as kids. Nowhere to go but forward, everything on the line, and your championship hopes in your own hands. You push your muscles to fire quicker to make defensive plays. You focus on each movement that you make with the ball a little more and get back to the shooting form that got you to the point of being able to compete for the title. You refuse to go away with anything left in the chamber as you try to see if your desperation, your unwillingness to go away in the face adversity is good enough to pull you to victory.
For the Heat, it was. Ray Allen spread his fingers, set his feet and flicked his wrist like he had millions of times in his life. He never looked down at his feet to see if he wanted to set up shop on that particular stretch of land; he just trusted the memory of a shot that he had prepared for time and time again. The ball ripped through the net and kept the season alive. In overtime, we saw the Spurs try to shake off the disorienting failure that they had just experienced, and they had a chance to still win the game and hoist the Larry O'Brien Trophy that night.
Instead, they couldn't pull through and it brings us to Game 7 of the NBA Finals. This is something that we've only seen 17 times in the 60-plus years the NBA has existed. In my lifetime, we've only seen five Game 7s in the NBA Finals. And you wouldn't want this series to end any other way. This has been one of the most entertaining and intense NBA Finals that I can remember.
We know these are the two best teams in the NBA. They've proven that over the course of 100-plus games this season. They've proven that against each other over the previous six games that have brought us to this point. It seems only natural that they would both have one more game to prove themselves to be the champion of this season.
That's exactly what we're going to get.
Tim Duncan will get a chance to prove that he has been the greatest player of his generation, a generation in which he's battled Shaquille O'Neal, Kobe Bryant, and now LeBron James. Tony Parker gets a chance to make the case that he's one of the most accomplished international players that we'll ever see. Manu Ginobili gets that same chance as well. And Gregg Popovich can begin to make his case as one of the top two or three coaches that this game has ever seen.
On the Heat side of things, it starts and ends with James and his quest for historic greatness that seems to rely so heavily on championship rings. A repeat champion would put him in fairly rarified air and give him a chance next year to show he's capable of leading a three-peat, something even rarer. Dwyane Wade would become a three-time champion. Chris Bosh should finally be able to put to rest the doubts about his ability or importance to this team, and they can officially start the dynasty discussion surrounding the potential of the Heat.
For every possible narrative that you might want, this series has an answer. For every possible outcome you could have imagined, it now boils down to just one. Win the next game, and you're the champion. Lose the next game, and you've squandered an incredible possibility. For the Spurs, it would be blowing a 3-2 lead in the NBA Finals. For the Heat, it would be becoming the first team since the 1978 Seattle SuperSonics to lose a Game 7 on their home floor.
The 2012-13 season has come down to the two best teams needing to win one game in order to become the NBA champ. There will be dozens of plays in this game that make your jaw drop and your opinion change. You will believe in one player a little more than you previously thought was likely. Another player will probably let you down in not living up to expectations. And through it all, we will crown a champion that leaves little doubt as to which team was the best in the game of basketball over the past year.
That's what the NBA gives us that no other sport can give. It gives us closure on a nine-month story that is made up and told before our very eyes. And once the final buzzer sounds and the trophy ceremony is over, we'll start wondering which team will be able to do it next year.
The NBA gives us a pure finality on the journey fans just took together. We couldn't ask for anything more.