Rockets' Chandler Parsons is texting Dwight Howard every day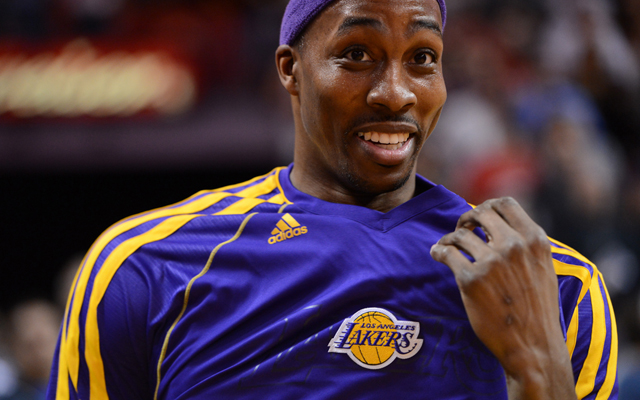 Chandler Parsons might not be fully aware of the NBA's policy on tampering.
In an interview with the Houston Chronicle, Parsons, the Rockets power forward, said he's constantly texting and talking with Lakers free agent C Dwight Howard about coming to Houston.
"After watching that last night," Parsons said, "I hit him with, 'Come to Houston. That could be us.'???"

That wasn't anything new for Howard. He has heard plenty from Parsons this offseason.

"I talk to Dwight every day," Parsons said. "I've created a relationship with him, where I feel like we're very close. He hits me up about everything. I've covered pretty much every question he's had. I basically tell him, 'We have a chance to be really good without you next year. We're going to have a good season. Why not come and join us, join our core guys who are for sure to be here and make us great, make us contend for a championship?'

"That's the main point I've gotten from talking to him. He wants to win. He wants to win rings. It's obvious there is no better fit, no better team or opportunity to do that than with us."
via Ultimate Rockets » Exciting end to NBA season inspires Parsons, Rockets teammates to think big.
So, the fact that Howard is talking to Parsons that much has to be a concern for the Lakers, and, is there a problem here regarding tampering?
Well, the league has always been pretty lenient with the issue of player tampering. Most of it is done below the table, and they don't want to be sending out fines for every player having any conversation with a free agent.
Additionally, the league does not independently initiate investigations of tampering. The Lakers would have to issue a complaint with the league regarding tampering in order for it to be considered, and there's been no indication of such a complaint, yet.
However, check out this from the NBA's definition of tampering in the CBA:
(e) Any Player who, directly or indirectly, entices, induces, persuades or attempts to entice, induce, or persuade any Player, Coach, Trainer, General Manager or any other person who is under contract to any other Member of the Association to enter into negotiations for or relating to his services or negotiates or contracts for such services shall, on being charged with such tampering, be given an opportunity to answer such charges after due notice and the Commissioner shall have the power to decide whether or not the charges have been sustained; in the event his decision is that the charges have been sustained, then the Commissioner shall have the power to suspend such Player for a definite or indefinite period, or to impose a fine not exceeding $50,000, or inflict both such suspension and fine upon any such Player.
The Rockets were already fined this month for tampering, along with three other teams, all targeting Howard. Parsons is not doing this below the radar or under the table. He's saying, while under contract with the Rockets, on record, that he's actively recruiting Howard while Howard is technically still under contract with the Lakers.
That's a pretty big no-no, if taken by the letter of the law. However, again, the league has historically been very lenient when it comes to tampering vioations involving players, because they don't want to legislate fines based on personal conversations. And had Parsons done this and just not said anything, the league would have no way to know, which is likely how they'd prefer it.
Parsons made similar comments on Jim Rome's show in recent weeks, but didn't specify that he was actively telling Howard to come to Houston, which he did in the interview with the Chronicle.
Then again, if the efforts work and Howard comes to the Rockets, wouldn't Houston be willing to pay that fine?
Howard becomes a free agent on July 1, when a moratorium goes into effect where teams place a player under contract, despite most of the league completely ignoring the intent of this moratorium and talking to agents constantly. Buckle your seatbelts.