PHOTOS: Lakers start campaign to convince Dwight Howard to re-sign
There once was a time when the Los Angeles Lakers did not have to stoop to the petty recruiting tactics for superstar talent other teams had to go through. They were the Lakers, and if you did not want to play for them, you were not worthy of them. Other teams pawed, begged, pleaded, and pitched. The Lakers stood by, confident in signing anyone they wanted, because they were above it.
Then along came Dwight Howard.
With Howard set to meet free agency in just four days, the Dwightmare is ready to break loose again. As Houston moves further and further into the driver's seat, according to reports for the services of Howard, the Lakers launched their public relations counterattack Wednesday, starting with a series of billboards to accompany a Twitter handle simply titled #stayD12 in order to advocate to the All-Star center that he should remain in Los Angeles.
From the Lakers' official Twitter: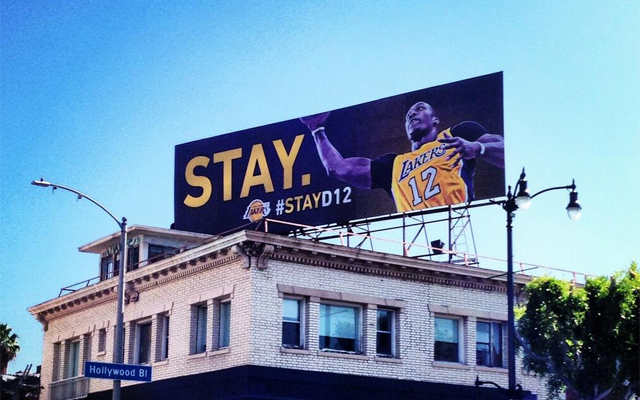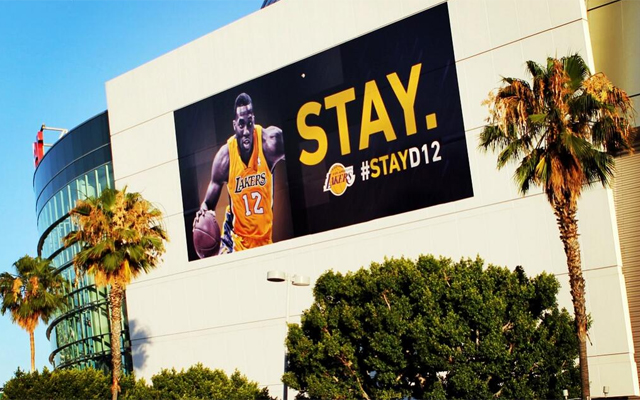 The period is what really sells it. You can just hear Howard saying, "Oh, man, Houston looks so great with no state tax and a shooting guard who doesn't make me want to cry and no Dwight comparisons and Chandler Parsons playing practical jokes, I should ... oh, wait a second. That billboard says 'Stay.' With a period and everything! I'd better re-sign."
You laugh, but given that this is Dwight Howard, it might actually work.
Meanwhile, the Lakers also had general manager Mitch Kupchak hold a "State of the Lakers" chat and start by buttering up the megastar:
Bringing back free agent center Dwight Howard is the Lakers' top priority this off-season.

"Dwight is in the category of the great of the great," Kupchak said. "He's over his back injury and there's no reason he can't play seven, eight more years at that position. There's no doubt in my mind if he does, he's in the Hall of Fame. Those players are just hard to come by."
via Lakers GM Mitch Kupchak says Dwight Howard is 'our future' -- latimes.com.
So the Lakers are putting the full-court press on Howard, which will involve Kobe Bryant, Pau Gasol, and maybe Mike D'Antoni, though there's no telling how that will go over. The Lakers can't afford to lose Howard under any circumstances.
There's also never been a superstar who walked away from the Lakers in his prime. It just doesn't happen. They're the Lakers. It would be a monumental shift in the NBA landscape if Howard turned down the purple and gold, but more and more it seems the Rockets are who he wants to play for next year.
Either way, this kind of madness continues as the craziest free agency summer since 2010 begins.