Report: Nets, Celtics discussing deal for Kevin Garnett, Paul Pierce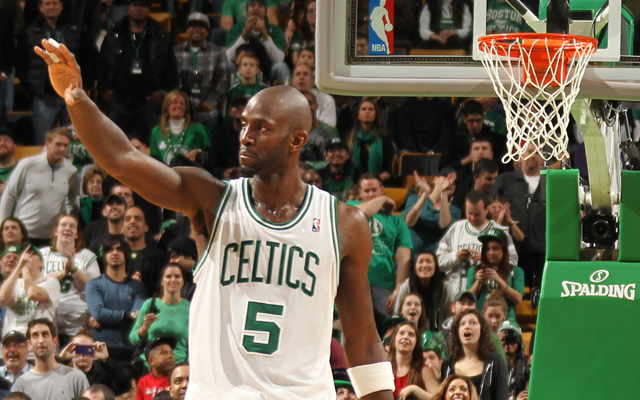 With Doc Rivers no longer coaching the Boston Celtics and trying to convince free agent Chris Paul that he should re-sign with the Los Angeles Clippers, we will probably see the Celtics look to jump-start this rebuilding process. The first thing that you'd have to do in Boston's rebuild is find new homes for Kevin Garnett and Paul Pierce. With Garnett possessing a no-trade clause, this is easier said than done.
One way to get him to agree to a potential deal could be sending him with Pierce to their next destination. According to Adrian Wojnarowski of Yahoo Sports, that's exactly what the Celtics are doing. He's reporting the Celtics and Brooklyn Nets are discussing a deal that could include at least five players total and three first-round draft picks.
Boston and Brooklyn discussing a blockbuster deal that would send Kevin Garnett and Paul Pierce to Nets, league sources tell Y! Sports.

— Adrian Wojnarowski (@WojYahooNBA) June 27, 2013
Possible Nets package includes expiring deal of Kris Humphries, Gerald Wallace, Tomike Shengelia and three first-round picks, sources tell Y!

— Adrian Wojnarowski (@WojYahooNBA) June 27, 2013
There are a lot of confusing aspects to this deal. Where do the three draft picks come from? The Atlanta Hawks have the right to swap picks with the Nets in 2014 and 2015 (from last summer's Joe Johnson trade). The Nets have the 22nd pick in this draft and could acquire another late first-rounder, but you would think the Celtics would want future picks in a much better draft.
Garnett obviously has to agree to the trade because of his no-trade clause. It seemed like he would OK a trade to the Clippers to accompany Rivers, but would going to Brooklyn to play with Pierce still be enough to get him to accept? Are the Nets enough of a contender in the East for him to think this is a good move? Would the thought of playing next to a real center in Brook Lopez give him the belief that Garnett would be able to take it easier on his body by playing power forward?
And if the Celtics are really going to go into a full-on rebuilding mode, why would they want Wallace and the $30 million over the next three years left on his contract? There are a lot of answers that need to be revealed, but the two teams are reportedly discussing the deal.