Eatery to Dwight Howard: Sign with Mavs, free chicken fingers for life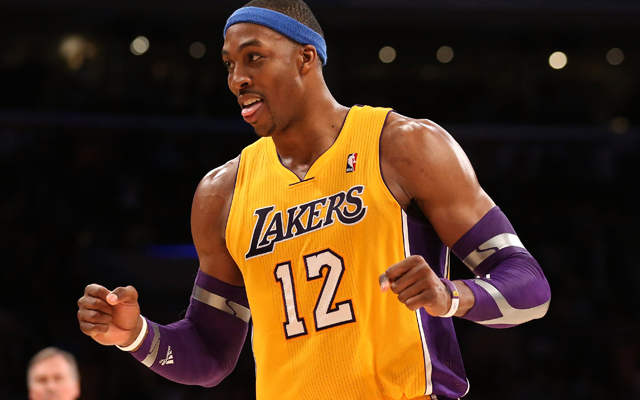 With The Dwightmare, Part II: Electric Foolaloo set to begin Monday as Dwight Howard becomes a free agent, everyone's trying to do their part to bring Howard to their team, including one Dallas-area restaurant.
They're offering the All-Star center free chicken fingers for the rest of his life to sign with the Mavericks. No joke. From the Dallas Morning News:
On Monday, Raising Cane's will kick off a campaign inviting Mavericks fans to help persuade Howard to sign with Dallas. The company has leased six electronic billboards to help publicize its cooked-up offer to Howard.

Raising Cane's marketing manager Adam Reed says that if Howard signs with the Mavericks, "he will be welcome to come by any of our (20) local restaurants to enjoy seriously delicious chicken fingers at any time, on us, for the rest of his life."
See, the idiotic thing about this isn't that the restaurant is offering this, but that you can actually envision a scenario where this works. The complete press release from the Morning News:
Forget the millions being offered by teams across the league. Basketball superstar Dwight Howard stands to earn free chicken finger meals — for life — if he signs a free agent contract to play in Dallas, thanks to a bold pledge by DFW-area Raising Cane's restaurants.

The nation's #1 quick service chain, which currently boasts 20 restaurants across the DFW Metroplex, is known for its ONE LOVE® — quality chicken finger meals – and it's putting a lifetime of them on the line to persuade Howard to sign with Dallas.

"These next few days, Dwight Howard will be making arguably the most important career decision of his life," said Adam Reed, Marketing Manager at Raising Cane's. "We have a lot of passionate fans among our Crewmembers in our DFW restaurants, so we thought we'd make Dwight an offer he couldn't refuse to up the ante for a Dallas-bound decision. We are also calling on every Dallas fan to join us in making the case online, in order to bring the big man to Big D."

Raising Cane's has created a special hashtag, #CANES4DWIGHT, that fans can use to join the campaign to recruit Howard to Dallas and bring the championship trophy back where it belongs.

Fans will be entered for a chance to win Free Cane's for a Year, as well as four tickets to Dallas' 2013 home opener, each time they use the customized hashtag. The winner will be announced shortly after Howard announces his decision.

Reed was quick to point out that he can't speak for Cane's locations outside DFW, but "Should Dwight decide on Dallas as his new home, he will be welcome to come by any of our local restaurants to enjoy seriously delicious chicken fingers at any time, on us, for the rest of his life."
By the way, there are 127 calories and 7 grams of fat in a single chicken finger from Raising Cane's, according to FatSecret.com.
This is just the opening salvo in a week that's sure to be full of ridiculous overtures to Howard. The Mavericks are among a group of teams expected to meet with Howard, including the Houston Rockets, Atlanta Hawks and the Los Angeles Lakers, who will be the last to meet with the All-Star center.
No word on if the Hawks, Rockets or Lakers are planning on bringing any offers of free chicken fingers with them. Does Howard even like chicken fingers? You know what, nevermind. Scratch that. Howard definitely likes chicken fingers. Most people do.