Knicks and Raptors agree on trade for Andrea Bargnani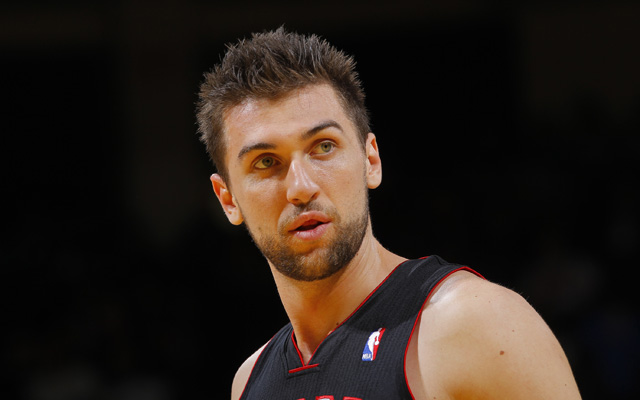 A report June 1 said new Raptors general manager Masai Ujiri's top priority after taking over the team was to trade forward Andrea Bargnani.
Well, he has found a taker.
According to Ken Berger of CBSSports.com and first reported by the New York Times, the Raptors and Knicks have agreed to terms on a trade that sends the Italian big man to the Big Apple.
The reported agreed trade has Bargnani heading to the Knicks in exchange for Marcus Camby, Steve Novak and future draft picks, one a first-rounder, and two future second-rounders.
Bargnani was taken first overall in 2006 by Toronto but has failed to realize his potential. He's mostly a jumpshooting 7-footer, rather than an imposing total offensive player. In seven seasons, he has career averages of 15.2 points and just 4.8 rebounds.
He's owed $22.25 million over the next two seasons.
The Raptors, under Ujiri's new guidance, are looking to change the culture and face of the franchise. The first step is off-loading Bargnani, whose contract is problematic as well his position as Toronto is looking to lean more on Jonas Valanciunas.
How would Bargnani fit in New York? It could mean the Knicks could move Carmelo Anthony back to small forward and let Bargnani play a stretch 4 next to Tyson Chandler, a position he could thrive in. With Chandler beside him in the frontcourt, Bargnani's lack of defensive presence and inability to rebound could be covered up some.
The other option would be to remain small with Anthony as the starting 4, and play Bargnani as a sixth man and vary up lineups. Either way, it would make Amar'e Stoudemire's future even that much more cloudy.
The lesson: The Knicks don't seem to have learned from past aggressive transactions where they shelled out big money and big assets to iffy fits. Does Bargnani actually make them much better? And more importantly, is he worth future draft picks?