Lakers waive Metta World Peace using amnesty provision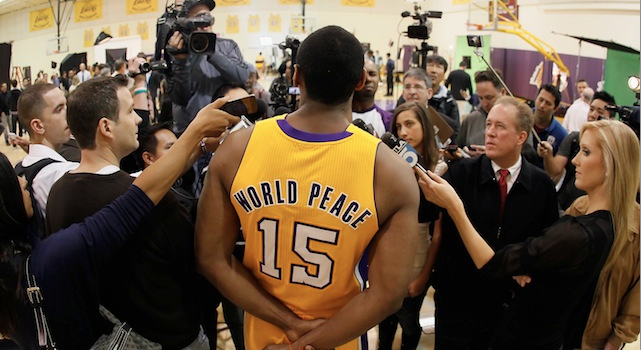 The Lakers waived Metta World Peace on Thursday using the amnesty provision after reports indicated the same earlier in the week.
The Los Angeles Lakers have waived forward Metta World Peace and have designated him as the team's amnesty player as allowed by the Collective Bargaining Agreement, it was announced by General Manager Mitch Kupchak.

"It's tough to say goodbye to a player such as Metta, who has been a significant part of our team the past four seasons. For anyone who's had the opportunity to get to know him, it's impossible not to love him," said Kupchak. "He has made many contributions to this organization, both in his community work as well as in our games; perhaps no more so than in his clutch play in Game 7 of the 2010 NBA Finals in helping to lead us over the Celtics in one of the greatest playoff wins in Lakers history. We thank Metta for all his contributions and wish him the best of luck in the future."

A 14-year NBA veteran, World Peace averaged 12.4 points and 5.0 rebounds in 75 games last season. Prior to joining the Lakers in 2009, he played with the Rockets, Kings, Pacers and Bulls, averaging 14.1 points, 4.7 rebounds and 1.8 steals over the course of his career.

World Peace, then known as Ron Artest, was named to the 1999-00 All-Rookie Second Team. He was the NBA Defensive Player of the Year in 2004, and also was named to the NBA All-Star Team that season, as well as to the All-NBA Third Team. He was named to the NBA All-Defensive First Team in both 2004 and 2006, and to the NBA All-Defensive Second Team in 2003 and 2009. For his off the court accomplishments, he was voted the J. Walter Kennedy Citizenship Award winner in 2011.
World Peace reacted on Twitter by saying GM Mitch Kupchak called him before announcing the move. World Peace had also reacted to the earlier reports. The Lakers posted the following on their official account:
Thank you for everything you did while wearing the gold armor Metta. pic.twitter.com/qp4vg1gsri

— Los Angeles Lakers (@Lakers) July 11, 2013
The man formerly known as Ron Artest probably won't be on the market long. He's still a capable NBA player off the cut and as a defender, very much able to contribute. Expect a list of suitors for World Peace to develop within days.