As Paul Pierce becomes a Net, the challenge in change is apparent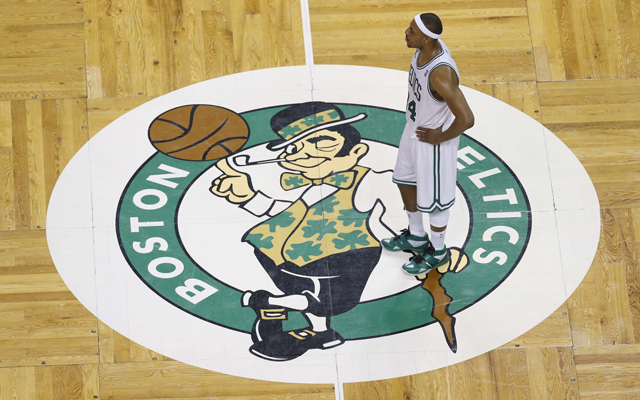 Thursday's press conference to introduce Kevin Garnett and Paul Pierce (along with Jason Terry) as new members of the Nets was a little weird. It was subdued, a strange affair that saw the two Boston icons holding up the black and white jerseys. KG's transformation only "seemed" weird. In reality, Garnett was born into the NBA a Timberwolf and his transformation into a complete Celtic was really dependent on getting that title in 2008. Without that, it could have been a much different history.
But Pierce ... Pierce was different.
The only NBA life Pierce has ever known was in Boston. For 15 seasons he was the surprising star -- the young, promising savior, the frustrated veteran and finally, The Captain, figurehead of the Celtics championship team of this generation. Garnett may have been the armor and the shield, Ray Allen the sword and arrows, but it was Pierce on the coat of arms, his name on the flag that flew as they went into battle. The Celtics were Pierce as much as Pierce was a Celtic.
In this way, his and Garnett's time with the Nets is already doomed to second-class status in the pantheon of their moments, in their eventual Hall of Fame montages. They're being asked to do less in Brooklyn, not expected to be the dominant forces they once were. The two are part of a collective now, a brand, really. But even if they had specific moments of greatness, those would probably not become iconic moments.
(The outlier here is if they have a moment like Allen's 3 with the Heat in Game 6 of the NBA Finals. That one probably makes his montage.)
We've seen these stars in different uniforms, and even when you expect it and have come to understand this is part of the business, it doesn't feel any different. It still evokes the same sense of, "This is wrong." Seeing Pierce and Garnett hold those jerseys up, or when they take the floor for the first time in the black and white, will be as unnerving as seeing Hakeem Olajuwon in Rapors purple or Patrick Ewing in Sonics gold (or Magic blue). The dynamic moments that make these players stand out in the basketball zeitgeist are in part shaped by those players' relationships with those teams.
Moses Malone, despite putting together some of the most dominant seasons of what is considered to be the best decade in league history, is never regarded the same way Magic Johnson and Larry Bird are. Those players were inextricably linked to the uniforms they wore. You wonder what that affect will do to the idea of LeBron James as time goes by, with his prime, much like Malone's, having gone through laundry transformations.
The most uncomfortable of all changes belongs to the G.O.A.T., Michael Jordan. Bringing up Jordan's time with the Wizards creates sour faces and sideways glances and shaking of heads. It's awkard to imagine him as anything but the tongue-wagging destroyer of worlds in the Bulls' bright red.
And the players are always aware of how odd it is. At the end of the day (cliche alert!), it's just, in most cases, putting on a jersey and doing the same thing they've done for 20 years. There's no real change. It's just a job, and it's just another game. But on Thursday, you saw Pierce in a truly emotional way. We use that word, emotional, as if it only means tears over being distraught over a loss or angry over a blown call or with a teammate.
But Pierce, despite himself, reflected something deeper on Thursday, something a lot of people feel: conflicted. His face was at times sad, contemplative, optimistic, and often, as if he was trying to smile his way into believing that what was happening was OK. That this was all going to be all right, no matter how wrong it feels. And it might. He might grow to love Brooklyn as he did Boston, or at least equally in a different way. But on Thursday, he was a man trying to rectify the mammoth change his life has gone through.
Paul Pierce, like so many legends before him, poured his heart into his game while wearing one jersey. It's been said that it's just laundry, and that's all we root for. But symbols mean something and the reaction Pierce's move from Boston to Brooklyn has inspired, shows that in the NBA, those symbols are not easily transformed.