2013 Offseason Report: Los Angeles Clippers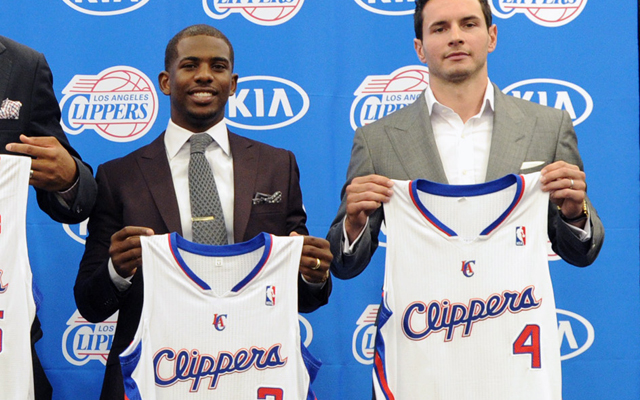 Over the next month, CBSSports.com's Eye On Basketball will take a team-by-team look at the 2012-13 NBA offseason. We begin with the reigning Pacific Division champs, the Los Angeles Clippers.
How they finished 2013
And everything looked like it was going so well, too.
The Clippers stormed out of the gate last season and looked like a legitimate title contender. Up until about March, they seemed like a team that was ready to make the leap. But then late in the season, people started wondering about their half-court offense and whether their defense was set. There was a split between the true believers that the late season struggles that saw them slip to the fourth seed behind Denver was a blip or something considerable.
The first two games of their first-round series with Memphis were great. One was a blowout, the other a narrow victory capped by Chris Paul doing Chris Paul things late. Everything looked great for the Clippers to make a run, especially after the Thunder went down.
Then the Grizzlies jumped up and down on them for four games. Everything collapsed. They couldn't rotate, couldn't stop the Grizzlies' bigs, couldn't find gaps and Jamal Crawford entirely disappeared. Season over.
It was the kind of ending that prompts big change and left questions as to whether Chris Paul would maintain his commitment to the team or leave in free agency.
Needs entering the offseason
Well, keeping Chris Paul was kind of a big deal. As in, without that the entire organization would collapse into the Pacific Ocean and be dragged away by a giant sea monster called "The Clipper Curse" and then Blake Griffin and DeAndre Jordan would have to man a special robot to take it down.
Sorry, been watching Pacific Rim.
They also needed a coach upgrade after the players made it clear without going public that Vinny Del Negro wasn't going to get them where they needed to go.
On the player side, they needed a veteran rim protector to get the onus off of Jordan to do everything. The organization's intent early on was to upgrade the wing position, which is odd because the Clippers have been pretty good on offense for the past few years, but it's true they were getting old and needed more reliable shooters.
The draft
At No. 25 the Clippers took Reggie Bullock out of North Carolina and it was a great value pick. Bullock has size and can shoot the lights out when he gets hot. If they develop him right, he can be a key shooter for them going forward, but in the short term, he's likely not going to get much time.
Free agency and trades
It took the Clippers about five tries but they managed to get a deal approved to acquire the rights to negotiate with and then hire Doc Rivers.
The Rivers move set off several dominoes. It helped with potential free agents, it gives them a coach with championship experience and, most importantly, it got Chris Paul's name on the dotted line. Paul sent word to teams that he was re-signing with the Clippers, signed his deal first thing, and it was done. The Clippers had their franchise player.
Then the Clippers got inventive. They knew they were going to have to trade Eric Bledsoe before he became a restricted free agent next season, and they decided to capitalize on his value, trading him in a three-way deal for J.J. Redick and Jared Dudley -- two wing upgrades that don't help them defensively down low, but do give Paul more weapons to pass to. But the two are capable perimeter defenders who can give a lot offensively.
Redick's four-year, $27 million deal can only work out two ways. It'll either work out as steal or become a massive overpay. If Redick defends like he did in Orlando and gets comfortable as a shooter in Doc Rivers' sets, he's going to be massively underpaid and a huge steal for LA.
The question will be whether Redick and Dudley will be worth the spark that Bledsoe provided off the bench. He's one of the most athletic players in the league, and he often turned games with his ability to chase down blocks and attack the rim. Will Redick and Dudley be valuable additions alongside Jamal Crawford, or redundant?
Luckily, the Clippers managed to find an extremely cheap and valuable replacement for Bledsoe in Darren Collison. Collison was a starter for Indiana two years ago, but fell off the map last season when Rick Carlisle abandoned him to the wind. Collison signed for less than $2 million, an absurd amount for a player of his caliber.
They brought back Matt Barnes and Ryan Hollins, the former a very key piece for them. Barnes was a monster for the Clippers last season, and though they became too dependent on a player who opponents will live with, after the additions of Redick and Dudley, the Clippers are no longer dependent on any one weapon outside of Paul. Byron Mullens takes the backup center spot previously filled by Ronny Turiaf. He's a fine garbage-time center who can fill in capably in case of injury.
They lost Grant Hill to retirement and Caron Butler in the Bledsoe trade. Chauncey Billups left to re-join the Pistons and the aforementioned Turiaf went to the Wolves.
Overall grade and accomplishments: B
The Clippers were solvable by season's end last year. Make Matt Barnes beat you, and you can survive Chris Paul's machinations by forcing him to be a scorer. Paul is an elite scorer, but his real damage is in getting his team going. Crash the glass and make Barnes beat you, while throwing some different schemes at Crawford, and you'e got a match.
Now, the Clippers have more balance. Their wing depth remains exceptional and should be slightly better with the youth movement. Crawford, Redick, Dudley, Willie Green and Barnes can all bomb from deep. Paul was retained and they will have exceptional out-of-timeout sets with Rivers around, as well as one of the best motivational coaches in the league.
Still, they're extremely dependent on Griffin and Jordan. Griffin improved in many ways few noticed last season, but still isn't a dominant rebounder and teams remain unafraid of his (admittedly improved) mid-range jumper. He and Jordan have to make considerable leaps this season for the Clippers to contend for a title, otherwise, they remain solvable.
Losing Bledsoe hurts, but they got excellent return on the deal and managed to shed Butler's salary. Collison is a steal, and the Doc Rivers acquisition will go a long way.
But did they unlock something that dramatically changes who they are? That's unlikely. Instead the Clippers are trying the same formula with better ingredients and hoping that's the answer. There are still a lot of questions with the makeup of this team, and we'll have to see if Rivers is able to fix all of them, and if the development of their young players gives them the boost they need to become legitimate title contenders.