Jeanie Buss wants Kobe Bryant to be 'a Laker for life'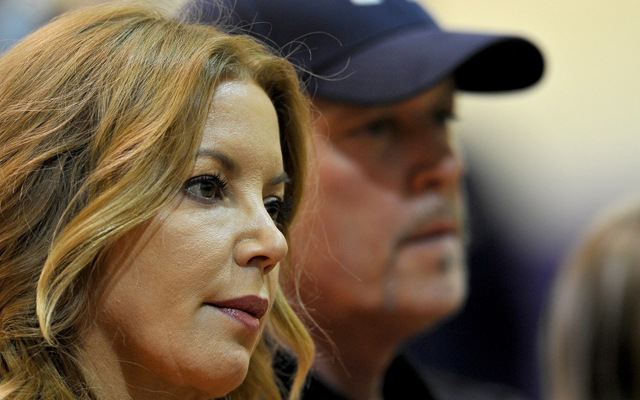 Lakers owner and Vice President Jeanie Buss said Friday on ESPN Los Angeles that she wants Kobe Bryant to be a "Laker for life." She specified that means she wants Bryant to not rush his return from Achilles surgery.
Los Angeles Lakers executive Jeanie Buss wants Kobe Bryant to know one thing: He should be a Laker for life.

"I want Kobe to take the time that he needs to get healthy," Buss said Thursday in a radio interview with ESPNLA 710. "I don't want to see him come back any sooner than when he's ready, and I know he'll know when that is. There's no reason for him to do anything that compromises his health."

Later, when asked by ESPNLosAngeles.com to expand on that comment, Buss said, "Kobe is part of the Laker family and he always will be. There's not many players who play 18-19 years with the same franchise, and it's important to us that he has a chance to play his entire career with the Lakers."
via Jeanie Buss says Kobe Bryant should be a Los Angeles Laker for life - ESPN Los Angeles.
It's kind of an interesting contrast, but Jim Buss told reporters last month that Bryant could return in the preseason. So you have his sister saying a month later that Bryant shouldn't rush it and should only return when he's ready. It's a minor difference, but it still caught my eye.
Either way, she might as well give up on that fight now. Bryant's going to return ahead of schedule and probably sooner than most doctors would advise. (The Lakers doctors have never reportedly or publicly disagree with Bryant on his return. The assumption is that he just really is able to play through pain and recover from structural damage faster.)
I outlined why I believe Bryant will return on opening night here. There's been nothing to change why he would since then, and all indications are that he's on track. The popular response is that Bryant is human and humans can only do certain things with this injury. The problem is not whether Bryant is human or not. It's whether he's willing to ignore things most athletes can't. Bryant may be human, but he's definitely able to get himself in a different space mentally from 99 percent of the planet.