Heat's Dwyane Wade has shock wave treatment on injured knee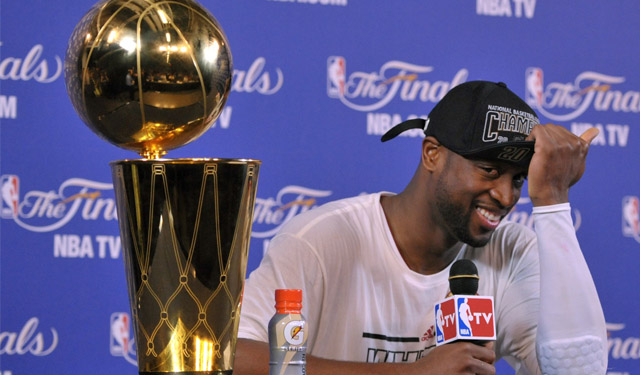 During the most dire moments of the 2013 NBA Finals, Dwyane Wade was receiving treatment on his injured knee and trying to muster whatever effort and fight he had in him to overcome the pain and contribute to the Miami Heat in the ways they needed him to as they fought for their second straight NBA championship. Wade came through for his teammates and fans by having really good games in three of the final four games of the series.
Even with the champagne and confetti flowing throughout South Beach, Wade still had to get treatment on his knee and get ready for a potential run at a three-peat when the 2013-14 season begins. According to Ira Winderman of the South Florida Sun Sentinel, Wade underwent OssaTron shock wave treatment last month and is now able to resume activities on the court.
Dwyane Wade said he underwent Ossatron shock treatment on his knee a month ago, only now resuming court work.

— Ira Winderman (@IraHeatBeat) August 15, 2013
OssaTron is a shock wave device that is used for orthopedic purposes and is designed to promote blood flow and healing within the injured part. It's typically done on someone's heel in a way to attempt to alleviate the causes for the pain. Wade had this procedure done back in 2008 when he played in just 51 games and had the second lowest field goal percentage of his career.
Patients of the procedure are typically supposed to avoid strenuous activities for about four weeks following the procedure, which would line up with Winderman's tweet about not being able to do any court work over the past month.
The season after Wade had this procedure done in 2008, he ended up playing 79 games and had the best season of his career with averages of 30.2 points and 7.5 assists while shooting 49.1 percent from the field. Wade's PER that season was a career-high 30.4 and he finished third in MVP voting behind LeBron James (won his first MVP award) and Kobe Bryant.
Wade was 27 years old back then so it was probably much easier for his body to respond so well to the treatment, but even at the age of 31 he should be able to at least bounce back nicely to begin the season. It's worth noting that he had the procedure in March of 2008 and had it much later in the year this time around.