J.R. Smith may have bought the armored vehicle from 'Fast Five'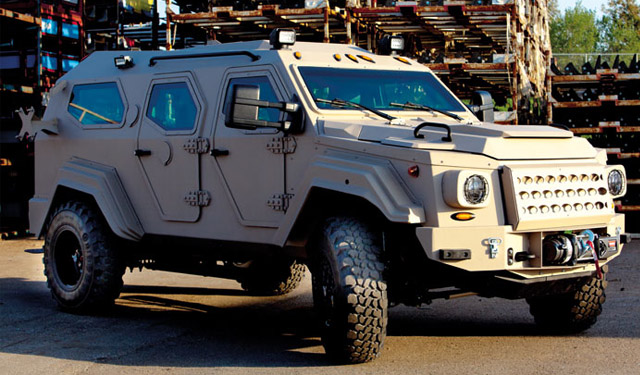 What do you get the guy who chucks everything? New York Knicks' guard J.R. Smith, the 2013 NBA Sixth Man of the Year winner, has a proclivity for being flashy on the court. He's into taking big shots, taking highlight worthy shots, and trying to make the ordinary seem extraordinary on the court. But his play on the court may not be anything close to as flashy as what he's doing off the court with his new deal worth around $17 million over three years.
The New York Post reported on "Page Six" that Smith pulled up to a restaurant in the Meatpacking District of New York driving Gurkha F5 armored truck, which is the same vehicle you saw Dwayne "The Rock" Johnson using as he plowed through Brazil in the box office 2011 blockbuster movie "Fast Five."
NBA star J.R. Smith spent some of the $24 million he scored in a four-year deal with the New York Knicks on a flashy new armored truck. Smith, who's recovering after surgery on his left knee in the off-season, rolled up to Meatpacking District restaurant Catch on Thursday night in a Gurkha F5, which is made by Toronto-based Terradyne Armored Vehicles and used by police and the military. Smith parked the oversize truck, worth about $450,000, on the street while he dined inside.
I've heard of backing up the Brinks' truck for a guy signing a new contract, but you don't usually leave him with the money and armored car.
Remember back when Joe Johnson got his $123 million contract from the Atlanta Hawks a few years ago and later we found out he had a custom Ford F-650 Super Truck XUV that costs well over $200,000? Double that and you've got what J.R. Smith paid out after signing a deal for about $106 million less than what Joe Johnson signed for. But even still, Smith's purchase is only about 2.6 percent of what he'll earn with the Knicks during this contract and some times you just have to treat yourself.
Not to mention, Smith had surgery last month on a lateral meniscus tear that will sideline him for 3-4 months, so it makes sense that he'd purchase a vehicle that offers him the most protection. I don't want to spoil Fast Five for you, and considering it grossed over $200 million at the box office I'll assume you've all watched the award-winning movie (it was robbed!), but not even Brazilian drug lords could bring down The Rock while he was driving that thing.
I am curious the parking job Smith did with the armored truck. How are the angles on the side mirrors for knowing how close you are to the curb? If you backed up into a Fiat or a Mini Cooper as your paralleled park, would you know you hit it or would it just slide safely into the tailpipe? Do you even need to have that red blinking anti-theft light near the dashboard? Do New York cab drivers still think they own the road when you're in one of these? If you're more than 18 inches from the curb, is parking enforcement going to be a stickler with this vehicle? Does the valet give you a ticket for your Gurkha F5?
What are the insurance rates for a car like that? Does it cover everything except "acts of God" and "trying to rob a South American drug lord of his fortune?" When Smith signed his contract, did he already have this in mind? I know it's not the same movie, but what are the odds he tries to drift in his Gurkha F5?
(H/T - Dime Magazine)