Report: Detroit Pistons pass on signing Jason Collins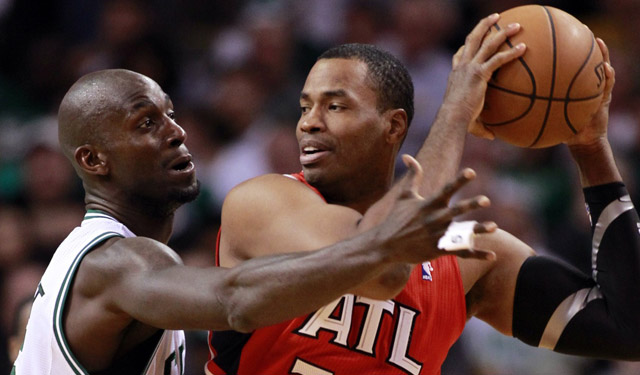 Jason Collins is much more of a name now than he was four months ago. Four months ago, he was just a utility big man that would complete a roster in order to give you a nice defensive option against some of the bigger centers around the NBA. His job was to be physical and make offense hell for the opposing big men he was sent in to face. In late April, Collins revealed to the world that he's a gay male playing professional sports.
Collins is still looking for work as the offseason crawls along and we get closer to the starting of training camps. After working out with the Detroit Pistons recently, they've decided to pass on moving him onto the roster as an insurance big man to back up Greg Monroe and Andre Drummond. From Franz Lidz of Sports Illustrated:
The Detroit Pistons have decided to pass on signing veteran free-agent center Jason Collins, according to an official in the team's front office, Four months ago the 34-year-old center became the first active male in one of the four major North American team sports to announce he was gay. He recently worked out with the Pistons in the hope of filling out the end of their bench as a reserve.
Collins hasn't found a job during his first free agency period since coming out, but that doesn't necessarily mean it has anything to do with his announcement. He was regarded as a fringe player at the age of 34 years old and not one of the more skilled centers in the NBA. However, it immediately raises the question of whether or not his decision to inform the world of who he is has affected his standing as an active player.
With the Pistons' current roster position, they have an open roster spot after the sign-and-trade for Brandon Jennings. They moved Brandon Knight, Khris Middleton, and Slava Kravstov to the Bucks in exchange for Jennings, but have not committed any guaranteed or non-guaranteed deals to a backup big man as of right now. They could be waiting for training camp to see if anybody impresses them.
As for Collins, he'll continue to look for work and try to find himself someone willing to give the veteran's minimum to have a defensive-minded center somewhere on the bench. He often wouldn't have been signed early in the free agency process anyway, but now it brings up questions of why he hasn't been signed when previously it would have been an afterthought.