Silver says no teams for sale, hints at ownership role in negotiations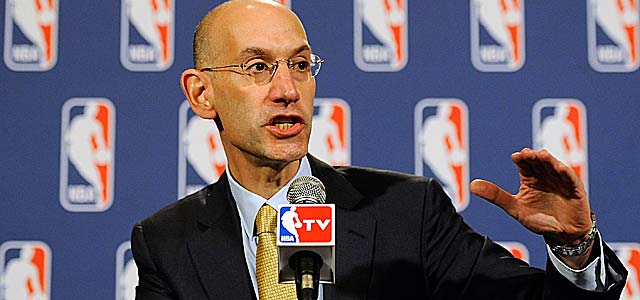 Deputy Commissioner Adam Silver is set to take over as the commisioner of the NBA in February as David Stern retires. ESPN brings us his comments from the Bloomberg Sports Businss Summit, in which he said that no teams are for sale at the moment, and that owners are going to have a much bigger hand in the new TV deal:
"As we look at the coming domestic television deal and a great playoffs and Finals, there's a great buzz around the league right now," Silver said at the Bloomberg Sports Business Summit. "There aren't any teams for sale but if there were [the price] would be robust."

"There's a new generation of owners who've become involved in the league. ... It's a recognition that even for very wealthy people, [teams are] a much larger percentage of their portfolio."

...

Silver said Tuesday that for the first time there will be a committee of owners formed to oversee the TV contract talks. It is believed to be the start of a new era in the NBA where the commissioner will be more open to input from owners on league-wide deals than was previously the case with Stern running the league.

"There's probably calls for more owner involvement than we've had historically," Silver said. "There's a new generation of owners who've become involved in the league. There's more a sense of activist owners ... these days led by Mark Cuban and others there are more full-time owners. It's a recognition that even for very wealthy people, it's a much larger percentage of their portfolio."
via Adam Silver, NBA commissioner in waiting, says no teams up for sale - ESPN.
Couple of interesting notes on this.
First up, he also talks about how Vivek Ranadive, who bought the Kings, a small-market squad with poor long-term prospects for $534 million, got a bargain because he's buying into the league's "global prospects." And it's certainly true that the NBA is clearly ahead of the other major American sports in tapping into those markets. But exactly how that's going to work, where the profit input is going to come from remains to be seen.
No owners on the horizon is going to create for a rare era of stability. Long-term, the Hawks ownership situation has been a mess for almost a decade, Herb Kohl and the Bucks would have to be headed for a new leader you'd have to think... and that's pretty much it. Everything else appears to be pretty stable. Knock on wood.
The bigger part of that leads into the second issue. Owners are likely going to hold onto their teams until after the new television deals, because the league could be in line for a monster new payday. With more 24-hour sports networks having started, and with the advances in digital outlets like Apple TV and web applications, the league is in position to cash in with a massive new deal across multiple carriers.
The owners being involved in the TV deals is significant as well. David Stern for years held the most power in the league and the owners followed his model. But a new crop of owners who don't have the same relatonship with the league as those in the league's expansion days of the 70's and 80's want more control. What's the fan impact here? To put it simply, it could result in hikes for your media outlets based on what those deals look like, and more importantly, the more control ownership has over league matters, the more likely a lockout becomes when the next deal ends.
David Stern was able to bring his side just enough to the center to avoid losing a season in 2011. If the ownership has a much bigger stake of control than it did with Stern, the next CBA negotiation could be a much more brutal affair.