Rivers says the Lakers the 'best franchise in the history of sports'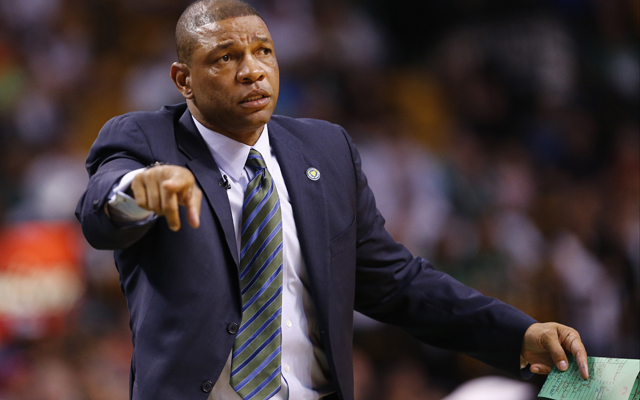 Clippers coach Doc Rivers, in an interview with Yahoo Sports, says that the Los Angeles Lakers are the "best franchise in the history of sports."
"The risk is all mine," Rivers, 51, said. "To go to an organization that hasn't won but [two] playoff series in their entire history, in a town where the other team is the best franchise in sports history – that's risk.

"But the opportunity – for me – gives me life. If we get this right, it will be the story of stories to tell. At this point in my life, the gamble is worth it."
via Coach Doc Rivers invigorated by opportunity to turn the Clippers into champions - Yahoo Sports.
Maybe he was talking about the Dodgers! Or the Kings! Or.... OK, yeah, he was talking about the Lakers.
As MassLive.com points out, this probably isn't going to go over great with his former fans in Boston.
What's the most hurtful statement Doc Rivers could have said about the Boston Celtics?

Probably something like a fake rumor that Red Auerbach, Larry Bird and Bill Russell used to spit on the team logo daily because they desperately hated the organization. But really I'm not sure.

Here's one thing I do know, though: Calling the Celtics' biggest rival "the best franchise in sports history" probably wasn't a great way to regain his fans in New England.
via Doc Rivers: Los Angeles Lakers 'the best franchise in sports history' | masslive.com.
That's not going to sit well with some people back East after Rivers left the Celtics under a cloud of rumors after signing an extension a year ago and saying he was fine with a rebuild.
Rivers making the statement largely is a reflection of respect to the Lakers and to avoid giving them fuel for the rivalry. It wasn't meant as a slight to the Celtics. Also, the Lakers have a more consistent history of winning over the entirety of their franchise, and have permeated the culture more, just by virtue of who their stars have been (big personalities like Magic Johnson and Shaquille O'Neal) and where they play (entertainment mecca Los Angeles).
But Celtics fans take this stuff seriously, and this is only going to feel like Doc is twisting the knife, even if he didn't mean it that way.