GM Survey: Kevin Durant should take the final shot over Kobe, LeBron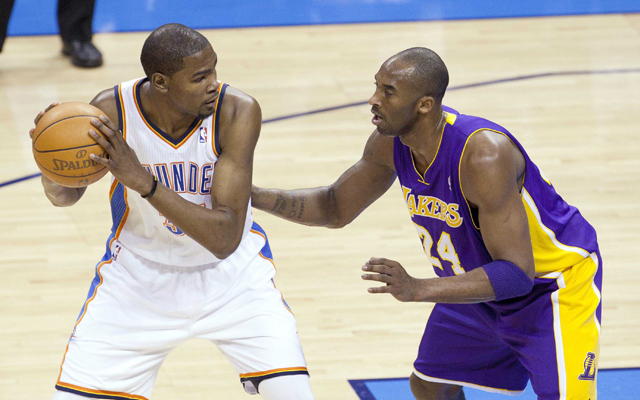 Imagine you're down one point and have the ball with the game clock ticking down through the final seconds of regulation. You're going to let the clock go down as much as you can before letting your star player make his move and take what should be the final shot of the game. If he makes you, you win; if he misses it, you take the loss. Your options for which player you want taking that shot are Kevin Durant, Kobe Bryant, Carmelo Anthony, and LeBron James. Who are you selecting to launch that final attempt?
If you're the general managers around the NBA, you're most likely selecting Kevin Durant of the Oklahoma City Thunder to take that shot. The 2013-14 GM survey was released and Durant was received 39.3 percent of the votes, edging out Kobe (32.1 percent) for the honor of the preferred hero at the end of games.
Which player would you want taking a shot with the game on the line?

1. Kevin Durant, Oklahoma City -- 39.3%

2. Kobe Bryant, L.A. Lakers -- 32.1%

3. Carmelo Anthony, New York; LeBron James, Miami -- 7.1%

Also receiving votes: Ray Allen, Miami; Manu Ginobili, San Antonio; Dirk Nowitzki, Dallas; Chris Paul, L.A. Clippers

Last year: Kevin Durant -- 46.7%
For years, Kobe Bryant was the selection for GMs. 78.6 percent of GMs in the 2010-11 season selected Bryant to be the hero at the end of a close game. Then it started swinging Durant's way as he became arguably the top scorer in the NBA. In 2011-12, Durant (30.8 percent) closed the gap on Bryant (48.1 percent) in the vote. Going into last season, Durant overtook Bryant in thise vote with 46.7 percent of the vote compared to 40.0 percent for Kobe.
Now we've got two straight years of GMs trusting Durant over everybody with the game on the line. The weird thing with this survey is that judging what a clutch shot is can be hard to agree on. And when you get into the final shot of a game with the outcome on the line, we don't really get many of those opportunities, year in and year out.
In the final 30 seconds of a basketball game with a player trying to tie or take the lead in 2012-13, we didn't get a huge sample size to work with on this subject. Bryant was 2-of-7 in this situation last season. LeBron James was 2-of-8 in these situations. Kevin Durant and Carmelo Anthony did not have a single attempt in this scenario.
In the 2011-12 season, LeBron didn't have a single attempt in these situations while Anthony shot 2-of-5, Bryant shot 2-of-9, and Durant was 4-of-11.