Michael Jordan says Bobcats would not tank, doesn't believe in it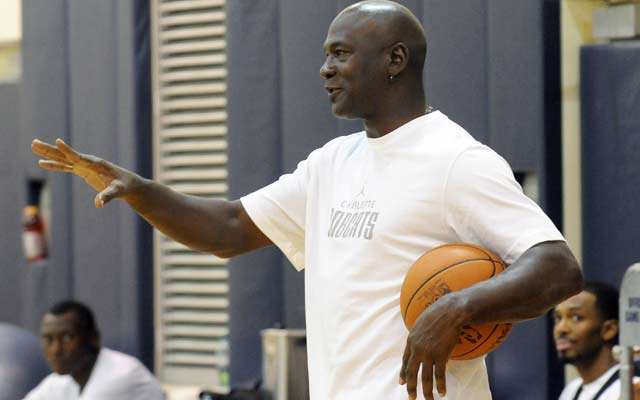 Michael Jordan hasn't exactly been a successful team builder in terms of getting the team into the playoffs. His ability to spot talent when he was running the Washington Wizards wasn't legendary for the right reasons (see: pick, Kwame Brown). Since purchasing majority ownership in the Charlotte Bobcats, his team has gone from a playoff team to a rebuilding team that had the worst season in NBA history.
While the Bobcats try to execute their rebuilding plan to get back into the playoffs, tanking in order to acquire the best odds of winning the NBA Draft Lottery is not part of the plan. Michael Jordan told the Associated Press that he doesn't believe in tanking and it's not something the Bobcats would do.
Forget that the NBA would likely hand down a hefty fine and fans would probably boycott if a team admitted to doing that, Jordan said purposely losing games in hopes of getting a top pick in the draft is no way to fix a rebuilding franchise.

The Bobcats owner scoffed at the idea Friday, telling The Associated Press, "I don't know if some teams have thought of that. That's not something that we would do. I don't believe in that."

He then laughed heartily and said, "If that was my intention I never would have paid (free agent) Al Jefferson $13 million a year."
This is an organization that happened to lose the final 23 games of the 2011-12 regular season, which happened to be the same year that "can't miss" prospect Anthony Davis was heading into the draft. The Bobcats ended up not getting the top pick in the lottery, settling for Michael Kidd-Gilchrist as the second pick. I don't think you can say/prove that the Bobcats were tanking. They were truly awful all of that season so it's hard to say they started tanking or they just didn't have luck putting a young roster together.
Regardless of the reason they were so bad, a lot of people assumed it was tanking because of the level of ineptitude the team showed on the court. It's similar to how people expect to view the 76ers this year. The Bobcats certainly aren't going the tanking route this season, as Jordan said after signing Al Jefferson to a big three-year deal. It's just interesting to try to find the line between being poorly run and being intentionally run into the ground so you can rebuild.
It's not a surprise that one of the most competitive people in sports history would be against purposefully setting yourself up to lose.
(H/T - ProBasketballTalk)