76ers 3-0: Philadelphia just wants to have fun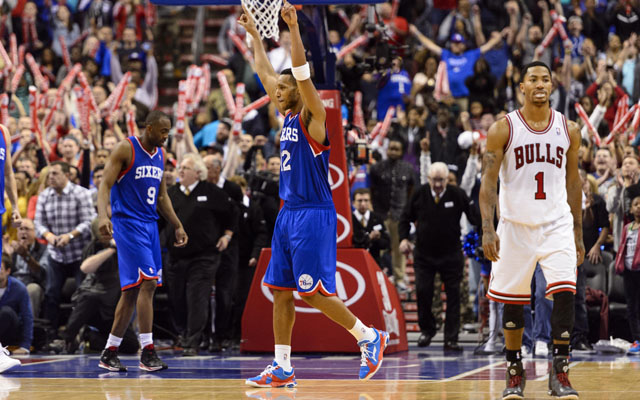 So...
This happened.
One point game, Bulls-76ers, 4th quarter.
76ers 107 Bulls 104 That actually happened. That was days after this.
And before that:
Three playoff-caliber opponents. Three wins. All this for a team with an over/under of 17, who we picked between the three of us to finish with no more than 13. They have completed 18 percent of the wins necessary to match their sports book over/under and the week is not even a week old yet.
So in short, what in the hell is happening?
There's certainly a part of this that is simply "it's early." Teams like the Wizards and Bulls are still figuring things out, the Heat have already hit the "coast" button. The Sixers on the other hand are just playing. There's no tomorrow, no sense of what's going to happen. They can't worry about their seasons or their contracts because in reality, they don't know if they'll be here the entire season.
There's no tomorrow, so they can just play for each night. And they are emptying every barrel they have because who cares? Evan Turner has said he's not upset about his contract not being extended because GM Sam Hinkie "isn't his GM." Thad Young has openly said he knows he will likely be traded.
Their starting point guard was considered a project because he couldn't shoot. Instead, Michael Carter Williams has 13 steals through three games and is shooting 47 percent. Tony Wroten, cast off by the Grizzlies has taken off as a hyper-athletic wing who is shooting threes. Evan Turner is making responsible decisions with the basketball, Spencer Hawes is filling it up, and all sorts of stuff is happening.
Will it last?
I don't know.
I know I'm supposed to either say "No, come on" or "I think it could." But more than anything the Sixers are showing us that even in the hyper-predictable, always controlled by the long-term NBA that sometimes, fun things happen in sports. That's the best part about what's happening in Philly. If even for a week, it's fun. There's no tension of trying to live up to playoff expectations, no messy locker room dynamics spurred by a superstar talent. There's no overbearing subplot. They're just a team that was supposed to be bad making plays.
Could they make a run and play decent ball for a while? Absolutely. We've seen weirder things. Just because it's unlikely doesn't mean it's impossible. Just because it doesn't fit with what we think will happen doesn't make it irrelevant. And just because it's bizarre does't make it any less fun.
If nothing else, maybe the Sixers show you an important dynamic in the NBA. When guys aren't thinking about the big picture, special things can happen. And after every analysis has been done, sometimes sports is just fun to watch.