Redd will officially announce retirement Wednesday night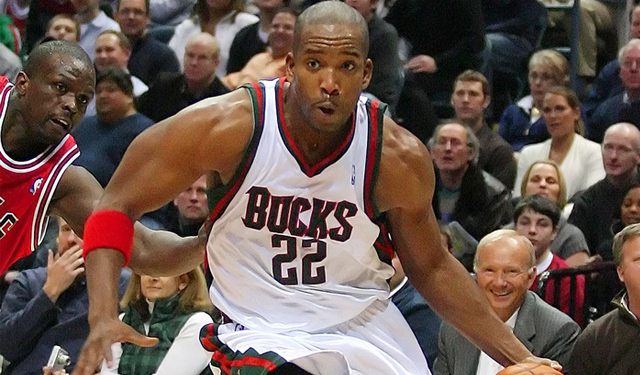 Former Milwaukee Bucks guard Michael Redd is one of the models for how a second round player should try to make a name for himself in the NBA. He was drafted 43rd overall in the 2000 NBA Draft with a unique skill of being able to make shots. As simple as that sounds, it's not something a lot of second round picks can do all that well. He took this skill set, learned from the veterans on his team, and ended up improving his game so much that he eventually became one of the stars of the Bucks franchise.
Sadly for Redd and NBA fans, his body failed him over the years with multiple knee injuries derailing was seemed like a very promising career. Redd wasn't able to extend his playing career into a 13th year during the 2012-13 season. The Bucks announced Redd will attend the game between the Bucks and the Cleveland Cavaliers Wednesday night to announce his retirement from the NBA and address the crowd between the first and second quarters.
Former Bucks All-Star guard Michael Redd will attend tomorrow's Bucks vs. Cleveland Cavaliers game (7 p.m.) to thank the fans of Milwaukee and officially announce his retirement from the NBA. Redd will address the crowd at the BMO Harris Bradley Center between the first and second periods.

Redd was drafted by the Bucks with the 43rd overall selection in the 2000 NBA Draft and went on to play 11 seasons in Milwaukee, where he averaged 20.0 points, 4.0 rebounds and 2.3 assists per game. Redd's name ranks among the all-time Bucks career leaders in the following categories: points (4th – 11,554); scoring average (5th – 20.0 ppg); games (7th, 578); minutes (5th, 19,334); field goals made (7th, 4,063); field goals attempted (4th, 9,045); three-point field goals made (2nd, 1,003); three-point field goals attempted (1st, 2,619); three-point field goal percentage (8th, .383); free throws made (2nd, 2,425); free throws attempted (3rd, 2,887); and free throw percentage (10th, .840).
Redd is one of the few second round picks that ended up being so successful and outperforming his draft position that he made over an estimated $100 million in playing contracts during his 12-year career. He was a part of the 2008 Team USA Olympic basketball team that won the gold medal in China. He was one of those unique scorers that could hurt you from anywhere on the floor. His work ethic was incredible as evident whenever he shot the ball. It was the same release point every time, no matter where he was shooting from.