Rockets pick and roll with Howard is a real problem for Lakers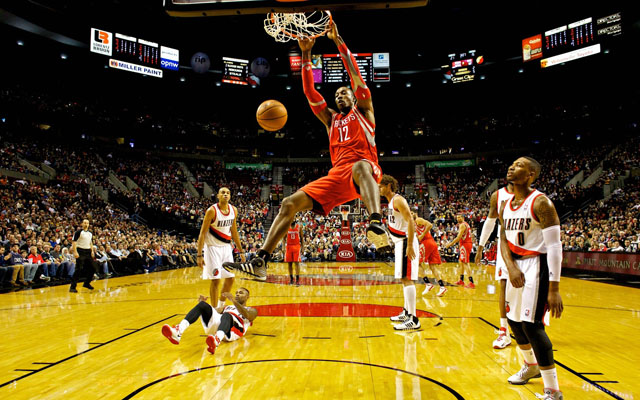 When the Lakers visit the Rockets on Thursday, they'll be facing their old pal Dwight Howard. They know first-hand what Howard can do offensively, but unlike his time with the Lakers (which Howard no longer wants to talk about), Howard has embraced the area he's most dangerous offensively: the pick and roll.
Houston adding Howard worked for a number of reasons. Obviously, he's a superstar talent. Obviously, he's a huge defensive force. But he's also tremendous in helping to exploit the most tried and true offensive tactic in the league. By surrounding Howard with young, athletic shooters and putting the ball in James Harden's hands to create, the Rockets have made an impossible situation for defenses.
Watch how the Rockets (with some prodding from Howard) clear all the shooters to the weakside, and how the defenses' effort to try and slow down Harden as the ball handler creates Godzilla roaming through town freely.
Here it is again, this time with where everything goes to hell.
So doubling, trapping, going after Harden off the pick isn't a great plan. What about a switch? The issue is that the big defender not only has to try and stick with Harden, but has to watch for Harden cutting past the smaller defender. Watch LaMarcus Aldridge get caught trying to guard the Harden drive, the Howard lob, and the Harden pull-up all at once here.
And while Howard is a great target to use in these situations, even with Omer Asik, once Harden gets you one on one, you're doomed. Unlike other great pick and roll combos in the league, though, the Rockets have the spacing to keep you from bringing the help defender.
One more time.
There's nothing you can do there. Once he gets you in space, you need the help defender. But those guys are stuck on the far edges of the universe, trapped trying to guard against the drive and kick to the shooter.
None of this is revolutionary stuff, it's just high execution. Luckily the Lakers are 25th in pick and roll defense against the shooter this season. Wait no, that' s awful. But they are 10th against the roll man, so maybe they can at least contain Howard. It's just going to mean giving up the outside shot. And with the Rockets, that's dangerous.