Bobcats coach Steve Clifford hospitalized for heart condition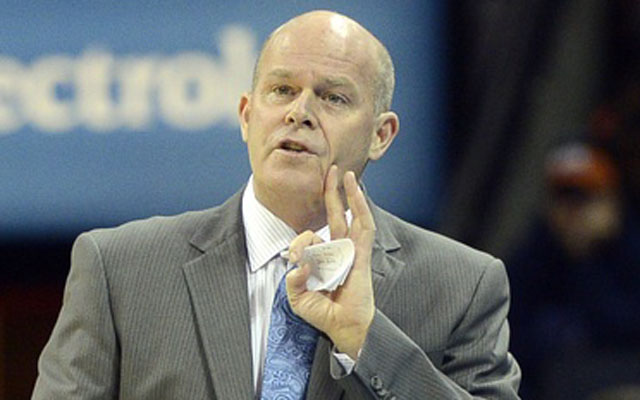 Update: The Charlotte Bobcats released this statement regarding Clifford's condition and the plans for coaching Friday night's game:
While at dinner last night, Bobcats Head Coach Steve Clifford suffered chest pains. He went to the hospital and was later admitted. After testing this morning, doctors concluded that a procedure was necessary to place two stents in his heart. He is resting comfortably and is expected to re-join the team soon. Associate Head Coach Patrick Ewing will serve as the acting head coach for tonight's game vs. New York.
The Charlotte Observer reports that Bobcats coach Steve Clifford was hospitalized Friday.
Charlotte Bobcats coach Steve Clifford has been hospitalized and is undergoing tests this morning for an undisclosed condition. It's unclear whether he'll be able to coach tonight's home game against the New York Knicks.

If Clifford can't coach, associate head coach Patrick Ewing will step in.

"He just wasn't feeling well so he's at the hospital getting some tests. Hopefully he will be back for the game tonight, but we have to prepare as if he won't," Ewing said after morning shootaround at Time Warner Cable Arena.

"My emotions are all about Cliff and the team. He's a very close friend of mine, and I'm worried about his safety and well-being. We have a great staff assembled here, so if he does not make it (to the game) the rest of the staff and I will have to carry on."

Ewing worked with Clifford as assistants for the Orlando Magic and Houston Rockets. He spoke with Clifford last night.

"He sounded fine, but we'll see what happens," Ewing said.
via Inside the NBA: Charlotte Bobcats coach Steve Clifford hospitalized; Patrick Ewing may fill in tonight against the Knicks.
The Knicks beat the Bobcats Friday with Patrick Ewing coaching the team.