Roy Hibbert isn't a fan of Andre Drummond after too much talk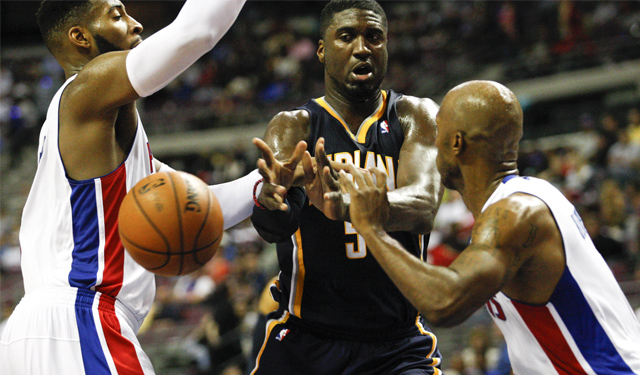 Roy Hibbert of the Indiana Pacers is establishing himself as one of the top centers in the NBA. He openly wants to win the Defensive Player of the Year because it will be a personal accolade for himself but more importantly, it's the type of award that helps his team quite a bit. He's worked really hard to establish himself as one of the premier rim protectors and a growing personality in the NBA world.
If you're going to try to establish yourself as a center in the league, you have to play pretty hard and be a consistent contributor on an All-Star level. What you may not want to do is try to get there by including a bunch of trash talk to Hibbert. After their game Tuesday night in which the Pacers beat the Detroit Pistons, Andre Drummond lost a fan in Hibbert because of too much talk on the court. From Terry Foster at DetroitNews.com:
"To tell you the truth I was a fan of his until tonight," Hibbert said Tuesday. "He is a real good prospect, but it seemed like he was running his mouth a little bit tonight. He has a tremendous future, but I was a fan of his. I thought he was supposed to have a breakout year this year. Best of luck to him. He can dunk the ball real well and he can block shots and he can rebound. He is going to have a bright future — but I was a fan of his."

Hibbert doesn't like yapping on the court. Drummond knows that and admits to trying to agitate him. It was nothing personal. He was simply doing his job and does not care that his fan club lost a member.

"If I lost a fan, I can't be mad about it," Drummond said. "If he complained about me talking, that is part of the game. I'm doing what I can do to get in his head, and it obviously worked because he noticed. So I was just trying to play my game and get into his."
Hibbert finished the Pacers' victory with eight points, 10 rebounds, and seven blocks while playing very physical basketball against Drummond. Drummond battled foul trouble but finished with six points and nine rebounds. What exactly went wrong between Hibbert and Drummond isn't entirely known, but it's apparently not something that will bother Drummond moving forward.
"My goal was to not make it easy for him," Drummond said. "It was to make it harder to get his shots, like it will throughout the season. The jump hook I tried to bang him to get him off his spot — that is what we worked on in practice. If he is mad about that, then he needs to get used to it."
Nothing like a good old fashioned big man battle!
(H/T - ProBasketballTalk)