2014 NBA Mock Draft 1.0: Wild projections and ridiculous upside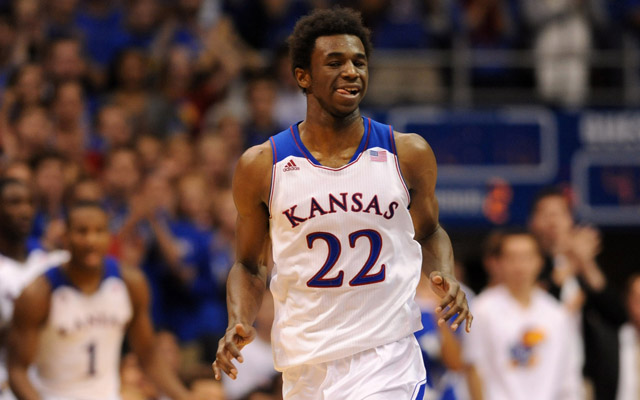 The 2014 NBA Draft is slated to be one of the best in recent memory. Whether the best player ends up as good as Kevin Durant, or Chris Paul, or Derrick Rose, or dare we speak the name of a King, it won't change the value of this draft either way. It's not about the No. 1 pick. It's about the entire class. It's talented, it's deep, it's exciting.
Meanwhile, the NBA season has just begun. There's no way to tell who's going to be where in terms of the draft order.
But here's the thing. Drafts are not pure big boards. Those are great for debating who's better than who, but the draft is influenced by patterns, by decision makers, by rosters (to a degree), and by shifting dynamics. They don't exist in a vacuum. I'd prefer a flawed environment to trying to look at how this class shapes up in a vacuum. Because what we'll end up with is a flawed environment, just not one as flawed as this one.
So we took the SRS metric from Basketball-Reference.com on end of games Sunday night, November 10th, and established a draft order. SRS factors point differential and strength of schedule. It doesn't give us a true projection, nothing will after just a handful of games in. But it gives us a model. And from there, we're able to simulate the possibility of a draft. This is less about who will be where and take what as it is about why Team X would take Player B or why Player M drops Y spots. The draft pick debt was established via the invaluable HoopsWorld page.
This isn't a perfect mock draft. It's not a perfect draft process. That's what makes it fun. Now let's crank up the Wiggins and get to Randling.
| Team | Pick | Analysis |
| --- | --- | --- |
| | 1 | Andrew Wiggins, F, Kansas: Wiggins is going to get a run for the No.1 spot from Julius Randle, Jabari Parker, and others. But we'll keep him here to start. If Utah lands here, what happens to Gordon Hayward? |
| | 2 | Julius Randle, PF, Kentucky: Touch, power, strength, and physicality. Randle would fit in perfectly with what Brian Shaw wants to do and he can develop him into more of the pure big man he wants. |
| | 3 | Jabari Parker, SF, Duke: Parker's the rare forward who can shoot from range and handle the ball, but also bully inside. He'll fit perfectly with DeMarcus Cousins and could become the alpha dog for Sacramento's needs. |
| | 4 | Aaron Gordon, PF, Arizona: Exceptional athleticism and at 6-9 can play at power forward next to Cody Zeller. Fits a need and could form a great combo with Michael Kidd-Gilchrist. |
| | 5 | Dante Exum, SG, Australia: If the Cavs are in this spot, then absolute disaster has struck and you could be looking at a new GM. Let's pretend, though, and they would want to trade this to whoever wants Marcus Smart since they have Kyrie. If they don't move it, Exum fills the need and has great athleticism. Dion Waiters can work on-ball as a sixth man and Kyrie has a better transition running mate. |
| | 6 | Joel Embiid, C, Kansas: The Lakers are going to be gearing for a big free agency splash, so really, getting a project center works just fine for them. |
| | 7 | Marcus Smart, PG, Oklahoma State: The Bucks would jump at this situation, and Smart would be a great fit on this roster. He'd have pretty much the offensive flow to himself. |
| (from Nets) | 8 | Willie Cauley-Stein, C, Kentucky: The Hawks would have a ridiculous cache of young talent if they get Cauley-Stein, but the Nets, who the Hawks get this pick from, will likely shake off their rust and finish much higher. |
| | 9 | Andrew Harrison, PG, Kentucky: You know. Just in case Rondo isn't around for some reason. Hypothetically. |
| | 10 | Aaron Harrison, G, Kentucky: Ten is just high enough to draft for need and the forwards above him at this position are just questionable enough to draw question marks. |
| | 11 | Glen Robinson III, SF, Michgan: Defensive forward which gives them leverage with Luol Deng and another offensive weapon which the Bulls need. |
| | 12 | Wayne Selden, SF, Kansas: Selden has incredible body control and shooter's touch. He'd fill in perfectly. Of course, odds are the Sixers are in position to draft another Kansas forward instead. |
| (from Knicks via Nuggets) | 13 | Montrezl Harrell, F, Louisville: The Magic are heavy on forwards (and will likely be higher than this) but Harrell would provide a nice combo forward to pair with Oladipo and Nikola Vucevic. |
| | 14 | Semaj Christon, PG, Xavier: I like his potential in pick and roll sets at his size, and his defensive upside. He'd be a nice fit here. |
| (from Hawks) | 15 | Mitch McGary, F, Michigan: This is a little lower than I'd expect him to be, just by virtue of the early season draft order. McGary will be a productive pro and should go closer to ten. |
| | 16 | Mario Henzoja, SG, Croatia: I'm not as impressed with Henzoja as some scouts, but I'm sure he'll turn me around by the end of the season. An athletic wing for the Rockets to stash and develop. |
| (from Trail Blazers) | 17 | Isaiah Austin, PF, Baylor: This is a bonus pick for the Bobcats, so they can afford to take a gamble on a project big. |
| | 18 | Gary Harris, SG, Michigan State: Shot 41 percent from the arc last year. Literally anyone that can make a jumpshot will do for Memphis. |
| (from Pistons) | 19 | Dario Saric, SF, Croatia: I don't like this pick and feel like there are way too many ways this can go badly for the Cats. Of course, that also leads me to think that's who they would take here. |
| | 20 | Doug McDermott, PF, Creighton: Someone with a little more polish to put at power forward behind Morris and beside Len. This is a nice fit, really. |
| | 21 | James McAdoo, F, North Carolina: McAdoo is still so gifted and how he's fallen off from his freshman year is really surprising. The Spurs could do some amazing things with him. |
| (from Mavericks) | 22 | LaQuinton Ross, F, Ohio State: A player with former incredible hype? That's what the Thunder always want. |
| | 23 | T.J. Warren, SF, North Carolina State: A really well-developed transition game and good size would make him a nice investment for the champs. |
| | 24 | Rasheed Sulaimon, SG, Duke: A smart guard which the Thunder could use off the bench, who can also shoot another need. |
| (from Pelicans) | 25 | Adreian Payne, PF, Michigan State: The Pelicans are unlikely to be this high, but if they were, Payne would be an easy grab for the Sixers to give them some frontcout depth. |
| | 26 | Alex Poythress, F, Kentucky: 6-8, great length, and he'll shine on a Kentucky team filled with first-rounders. |
| | 27 | Jahii Carson, PG, Arizona State: A backup point guard should the Magic finish with the fourth-best record in the league. Yeah. About that. |
| (from Timberwolves) | 28 | James Young, SF, Kentucky: It's never a bad time to draft a Wildcat. |
| (from Warriors) | 29 | Nikola Milutnov, C,Serbia: Grab and stash. |
| (from Pacers) | 30 | Tyler Ennis, PG, Syracuse: A change of pace point guard off the bench behind Eric Bledsoe. |