Where do the Bulls go without Derrick Rose?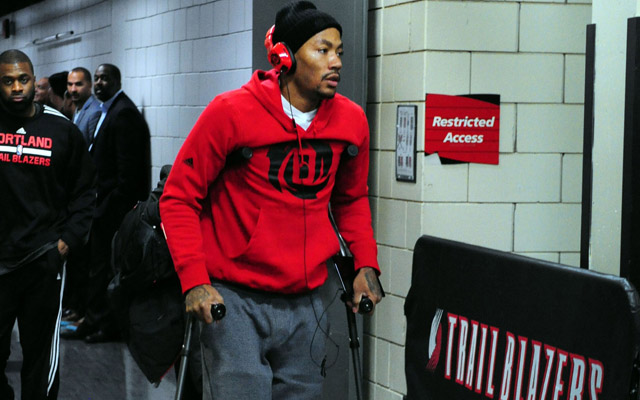 And just like that, Derrick Rose is gone, again. After it was announced that Derrick Rose will undergo surgery to repair a torn meniscus in his right knee less than a month after returning from an 18-month absence recovering from a torn ACL.
Ken Berger has the details on the future of Rose, and the tough decision in front of both he and the Bulls, but meanwhile, the season rolls on for Chicago. The Bulls still have to finish the season, and should they have conidence Rose can return depending on how long he's out, they will still want to be in position for a playoff run if and when that happens.
Last season, the Bulls not only remained competitive as Rose's absence stretched into weeks and then months, but thrived, winning the fifth seed and toppling the Brooklyn Nets in the first round.
The core of the team was of course it's stellar defense. That should remain unaffected as the team still features Joakim Noah defending at the rim, Luol Deng and Jimmy Butler on the perimeter, and Tom Thibodeau able to orchestrate wine from water when it comes to defense. Losing Rose wont't impact this in the slightest. Rose is a decent defender, but far from a good one, and was actually making questionable decisions and getting lost this season as he shook off the rust.
Chicago this season gave up 100.6 points per 100 possessions with Rose on the floor, and just 84.8 with him off of it. Those numbers are rarely if ever reflective of the true measure of a player's defensive output, but it does bear out what the eye test revealed: Rose was a minus defender for Chicago.
Offensively is where the problems will arise. While the Bulls were technically better by less than two points per 100 possessions with Rose on the bench, he gave them too much of a threat when he was cooking, and is too talented to ignore as a huge missing component.
Last season the Bulls had Nate Robinson to turn to offensively. Robinson is erratic, inconsistent and far too confident in his own talents. But that confidence also serves to help him go on huge scoring runs and make monster shots when the games get tight. He took over a game vs. the Nets in the playoffs and was instrumental in several scoring runs. The Bulls last season also had Marco Belinelli to create off the dribble. While Belinelli was similarly inconsistent as with Robinson, he was still able to produce and create offense off the dribble.
This season, the Bulls expected Rose back and geared a team to use his talents. Mike Dunleavy has struggled overall and is a pure spot-up shooter. To back up Rose, the Bulls have Kirk Hinrich who struggles with anything inside the paint and Marquis Teague who just struggles. They lack another playmaker on the perimeter, which means that the offense will go through Luol Deng and Butler, when it's not being force-fed to Boozer.
The conclusion is that this makes the Bulls easier to defend. They could actually struggle more than last season when they were 23rd in offensive efficiency. They have a better roster than last season, but not a better roster configured to withstand an injury to the franchise.
The keys will be Carlos Boozer taking over a huge chunk of the offense, Joakim Noah and Jimmy Butler getting healthy, and Luol Deng essentially being insanely good. That's a lot to ask.
Can they make the playoffs? Yes. Absolutely, 100 percent, because the Eastern Conference is horrible and they will likely be well above the .500 mark that at bare minimum is needed.
But after that, it's a question of where Rose is. Is the objective to get back to the plaoffs and hope Rose is back by March, basically a repeat of last year only instead he actually comes back? Or is it prepare for the possiblity of him missing the entire season? These are the questions the Bulls will have to try and determine over the next two months, should Rose miss at least that long.
Of course, there is the other option. Recognize that Rose was not himself when he came back, that there's no win in rushing him back and that sticking to an ultra-consevative approach remains the best outcome for Chicago long-term. Under those conditions, with this roster built the way it is, do you play out the string? Or do you turn around and start moving for assets in order to cut costs and aim for yet another run in 2014-2015?
It may seem like an overreaction, but bear in mind that next season, they get Nikola Mirotic, one of the top prospects in Europe, Luol Deng will be a free agent this summer and likely aggravated by the way the team has slow-rolled extension talks, and Carlos Boozer will finally be an expiring contract. You can re-gear your team with a new core of Rose, Noah, Jimmy Butler, and Mirotic, which allows you to focus on the bench.
Is that something the team would commit to? Oh, and by the way, there's the San Antonio possibility. You can't really think the Bulls could be bad enough to make a high lottery spot, but if they really tanked and wound up in the middle, there's a chance they could snag a top-three spot, and pull off a situation similar to putting Tim Duncan next to David Robinson, only Rose would be considerably younger than Robinson was then.
Rose is the Bulls' future, provided he can come back from this injury. (If he can't, or if he suffers another one, the question gets much more difficult.) But his absence suddenly leaves the Bulls in the perilous position of going from a championship contender to a team trapped in purgatory. It happens just that fast. Figuring out the best way to get out of it... that will likely take much longer.