Charlotte basketball bringing back purple and teal color palette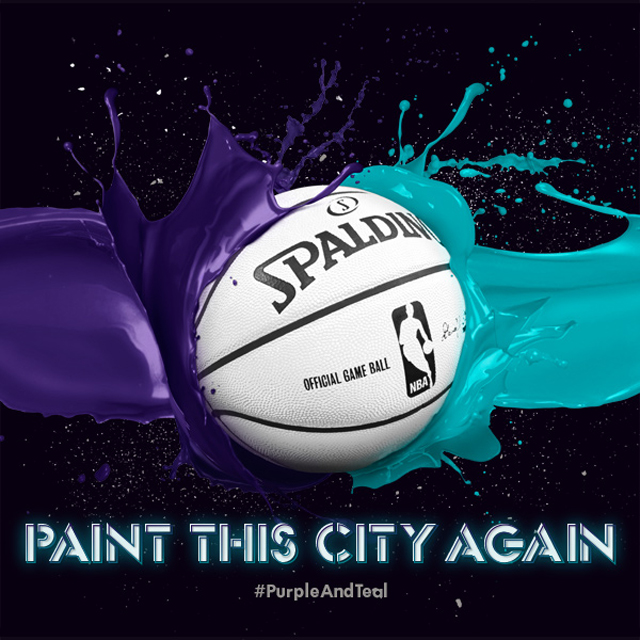 With the New Orleans Pelicans in full effect, the Hornets name is available again for usage by an NBA team. Back in May, the Charlotte Bobcats announced their plans to become the Hornets. It's paying homage to the original NBA team in the city of Charlotte and it's also a brilliant re-branding plan to remind fans that basketball can be good there again. They can bust out all of their old Hornets gear and not root for a franchise name that was coined after the original owner of the Bobcats, Bob Johnson.
Sunday, the Bobcats/Hornets announced their new color way for the change in 2014-15 when the Hornets name is officially used again. We'll be seeing the old purple and teal colors with black, cool gray, and light blue as the secondary colors. The Bobcats/Hornets are going to "paint the city" with advertising to bring the colors back into the forefront of Charlotte fans.
The Charlotte Bobcats announced today that the team will utilize purple and teal as its primary colors when it changes its name to the Charlotte Hornets prior to the 2014-15 NBA season. The colors, which were used by the original Charlotte Hornets during their tenure in the city from 1988-2002, will be accented by secondary colors black,cool gray and light blue.

"It was important to us to acknowledge the heritage of the Charlotte Hornets when bringing the name back to the market," said Bobcats Sports & Entertainment Chairman Michael Jordan. "The purple and teal color scheme was instantly recognizable as being associated with the original Hornets and we felt it was only appropriate to utilize the colors once again with this historic brand."

As part of the survey process prior to the decision to change the name, Harris Interactive surveyed the Charlotte community, as well as current season ticket holders and team sponsors. In each of the three groups, an overwhelming majority of those surveyed were in favor of using the purple and teal of the original Hornets as the colors of the rebranded team.
The team will use digital, print, and billboard advertising to "paint the city" purple and teal. While the Bobcats were a decent enough name, the color way just wasn't very good and it paled in comparison to the old colors of the first Charlotte NBA franchise that captured the city and the nation with how the team looked.
Now where would one go about getting a Starter jacket to celebrate this new color way?