Nuggets' Danilo Gallinari has no idea when he'll return to his team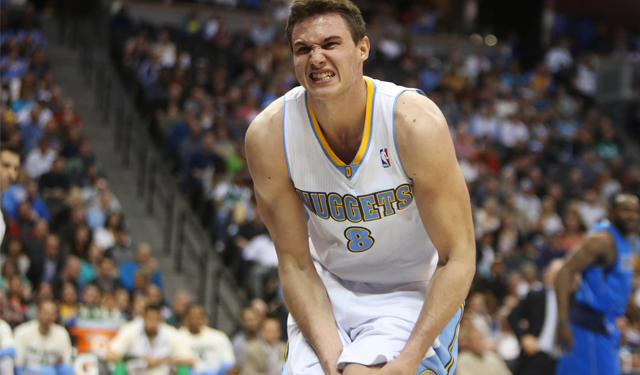 The Denver Nuggets are starting to get their heads together and learn how to play good basketball under Brian Shaw. They looked lost and disorganized in the first week or two of the season but have since found a way to rally while playing together. The talent on their roster and the injury to JaVale McGee still put them in a tough situation but they're finding a way to survive until the team is healthy and can form some better continuity on the court.
Unfortunately, they still don't know when they'll get Danilo Gallinari back and he doesn't seem to know either. According to the Denver Post, Gallinari was hoping during training camp to be back near the start of December but that certainly won't happen. It sounds like he's not all that close to returning to the team for important basketball activities and he says he doesn't know when he'll be able to return. There's no longer a timetable, just waiting.
Two months of knee rehab with the Nuggets has brought some clarity to forward Danilo Gallinari about the time it's actually going to take to get back on the court.

It won't be next week, as he'd hoped - and said prior to the start of training camp - it would be. In fact, he does not know when it will be. He is officially out of the prediction and timetable business. What he does know is he is very far away from even thinking about a return.

He talked about it all in an interview with the Denver Post.

"Ahead of me I have a lot of things to do - running on the court, being able to do cutting and everything that you do on the court, and be able to play," Gallinari said. "So a lot of stuff. What we are doing now, we are able to run on the AlterG, this anti-gravity machine. We're able to do that and other stuff in the weight room."
Gallinari tore his ACL back on April 4 in a win over the Dallas Mavericks. This was in the midst of a franchise season for the Nuggets in which they won 57 games and secured the 3-seed in the Western Conference. Shortly after the injury to their second leading scorer, they ran into a buzzsaw Warriors team in the first round of the playoffs and simply didn't have the firepower to stay with Golden State.
The Nuggets got off to a 1-4 start to begin this first season under new coach Brian Shaw and looked pretty abysmal. Since then, they've rallied to go 5-2 with their only two losses coming on the road against the Oklahoma City Thunder and the Houston Rockets. They've won five straight games at home as well.
Getting Gallinari back would be a huge boost for them once he's healthy enough to be his old self, but that will take some time to get him ready to play again.