It's official: Wolves trade Derrick Williams to Kings for Mbah a Moute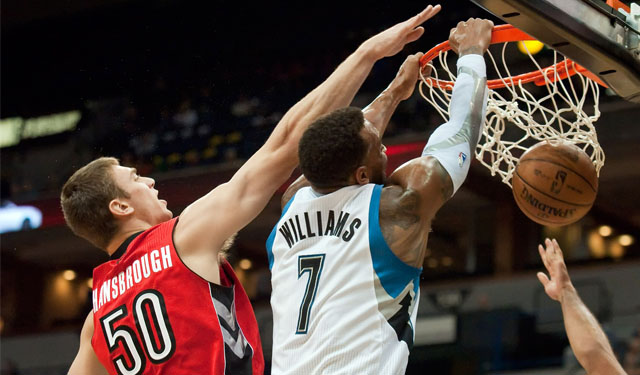 The reported trade from last night between the Sacramento Kings and Minnesota Timberwolves has been completed. The Wolves will send 2011 No. 2 overall pick Derrick Williams to the Kings in exchange for Luc Richard Mbah a Moute in a straight-up swap.
From the Wolves' press release:
The Minnesota Timberwolves today announced the team has acquired forward Luc Mbah a Moute (BAH-ah MOO-tay) from the Sacramento Kings in exchange for forward Derrick Williams.

"We are excited to acquire a solid veteran player in Luc Mbah a Moute," said Flip Saunders, Timberwolves President of Basketball Operations. "Luc is known as one of the premier defensive players in the league with an ability to guard multiple positions. He adds a lot of energy, grit and a high basketball IQ to our team. We thank Derrick for his contributions to our organization and wish him well in Sacramento."
Williams struggled to gain the trust of coach Rick Adelman while he was in Minnesota and always seemed to be between positions. He worked hard to shed weight and improve his breathing over the last two offseasons in order to be bale to move down to the small forward position to play next to Kevin Love. However, he wasn't able to fit into the position the way Adelman likes his wings to play and his ball-stopping and poor defense kept him from finding a regular spot in the rotation.
He played well in Love's absence during the 2012-13 season but not nearly well enough prove he should be the backup power forward instead of Dante Cunningham. For the Kings, Williams will have less pressure to perform and a much simpler role in how he's used within the flow of the offense. He'll have an opportunity to build his confidence back up and try to cash in on some of the potential that made him the second overall pick in the 2011 draft.
Mbah a Moute brings a versatile wing defender to the Wolves, something they've needed against the top scoring forwards in the NBA with Andrei Kirilenko leaving the team this offseason. Corey Brewer has done a good job of providing that, but giving him a breather in that role and having depth with defensive role players is something the Wolves wanted to add.