Report: Heat shopping Joe Anthony to pick up another guard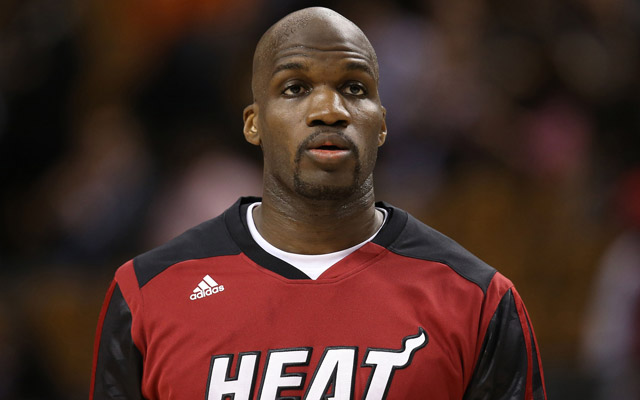 The Heat are fine. They lost to the Pistons and Bulls this week, without Dwyane Wade, but they still have a 4.5 game lead over Atlanta for the division. They're getting a top-four seed no matter what, and that's honestly all they need. Everything else in the regular season is trappings on the tree, it ain't the presents
That said, ESPN reports that the team has figured out that after amnestying Mike Miller last summer, they need some help. They're targeting a guard, trying to swing Joel Anthony's less-than-$7.6-million remaining salary as bait.
With Dwyane Wade missing numerous games to manage knee issues, the Miami Heat have recently started trade talks looking for backcourt help, multiple league sources told ESPN.

...

The Heat have an excess of big men and have been investigating the market for swapping one of them for a guard or to clear a roster spot so they can sign a player later. Heat center-forward Joel Anthony, who has played in just five games this season, is one of the players who has been available.
via Miami Heat talk trade with Dwyane Wade out - ESPN.
Anthony completely fell out of the rotation once the Heat went to a small-ball approach in 2012. He's averaging just five minutes per game in just six contests this season. He has a player option for over $3.5 million next year but you'd imagine a team could figure a buyout if they really needed to. Anthony has stone hands but is a pretty good rim protector.
Meanwhile, the Heat need a perimeter weapon. James Jones has fallen out of the rotation and Norris Cole and Mario Chalmers have had smaller roles. There are some options out there, Amin Vafa suggested Wizards guard Eric Maynor, but a deal might be hard to strike without the Heat sweetening the pot somehow.