Kevin Harlan to BYU Sketch Comedy: Journey down the rabbit hole
Part of the experience of watching the NBA is being able to find a voice you love hearing announce the game to add enjoyment to what you're doing. NBA fans have such passion for the game and being able to channel that enjoyment from the person giving you the play-by-play commentary increases the entertainment of every broadcast. Finding a way to tangentially dovetail from your favorite announcer to your favorite poster boy of all time can be a fun journey online.
Let's take a trip down the rabbit hole this week:
First Stop: A lot of Kevins in Minnesota
Steve Aschburner of NBA.com had a great look at the Minnesota Timberwolves' franchise over their 25 years in the league and what the name Kevin has meant to the organization. It's easy to immediately think of Kevin Garnett, the franchise's greatest star and one of the best players of all-time, or Kevin Love, the team's current star as they try to find their way back to the postseason after nine long years of missing it. But the first Kevin that made this team fun was Kevin Harlan, the play-by-play announcer who finds a way to bring energy into any contest.
He's currently working for TNT but Harlan built his name with the Minnesota Timberwolves when they first started out as an organization. From radio calls to lighting up our ears with incendiary television calls, Harlan called Wolves games for nine years from 1989 to 1998 before heading to CBS for NFL coverage and TNT to call some of the best games of the week. He always found a way to make the inevitable seem fun for Wolves fans:
They cracked wise on the air, concocted timeout and halftime video bits, conspired to drop "words of the night" into broadcasts for their own amusement, turned the team mascot Crunch into a cult hero and put Twin Cities notables such as music producer Jimmy (Jam) Harris and wrestler-turned-politician Jesse Ventura in guest headsets. When local legend Kevin McHale came aboard after his Boston Celtics career, the antics – and the basketball insight – jumped considerably.

Kevin No. 1, meet Kevin No. 2.

"We knew the team rarely was going to win, and it was on the personality of the broadcasters we had. Certainly McHale," Harlan said. "He was the kerosene on the fire. He was funny, yet biting and honest – he had everything. He was incredibly insightful and he had the name.

"He really did not care what anybody thought. The league would call our front office and complain about what Kevin was saying, whether he was getting on an official or making fun of a player. It wasn't like a college frat party, but we knew the address."

Harlan stuck around long enough to see McHale promoted into the front office and Minnesota make the first two of eight straight playoff appearances. As the team improved, the broadcasts added heft, but Harlan's personality never waned. He literally would rise out of his courtside chair on some calls. Some of his catchphrases – "No regard for human life!" – linger 15 years after he left for greener network pastures.
His pairing with Kevin McHale for broadcasts was kind of legendary. As Aschburner points out, McHale would get calls from the league office about getting on an official during the broadcast or making fun of a player on the court in a way the league didn't see fit. That didn't stop McHale from pouring his personality into what he was doing with announcing and having it molded perfectly into the conversation by Harlan. The Wolves have been blessed with some great announcers over the years but it started with Kevin Harlan.
The most energetic Kevin in Wolves' history
It's not Garnett and it's not Love. The most energetic Timberwolf in franchise history was always Kevin Harlan. He had some amazing calls over the years and thanks to some YouTube magic, we have access to these calls and the great ones he's had since moving to TNT. Here's a tribute the Wolves' broadcast team made for Harlan before he left for CBS and TNT.
"Kevin Garnett's going crazy! He's going mad! He's got Mad Cow Disease!"
Back in the year 2000, a certain Timberwolves fan who may be writing this very post was living in Sacramento and thirsting for any bit of Wolves' material he could get. Thankfully, they made these "Greatest Hits" CDs that mixed music and great calls from the franchise history. You got the Ramones, K.C. and the Sunshine Band, Republica, and many more musical acts taking turns with great calls from Harlan and the gang.
You can still get it for $4.49 on Amazon! You'd have to explain to your kids or younger siblings what a compact disc is but it's available for consumption. In it, you had Kevin Harlan howling at the moon and exclaiming, "Googly-oogly-otta, baby!" like you saw in the video above.
You even got Quinn Buckner joining in on the fun with Kevin Harlan back when they were trying to make Doug West highlights exciting.
Some more great Kevin Harlan moments
There are so many non-Wolves great calls from Harlan over the last 15 years as well. If you dunk the ball hard, somewhere Kevin Harlan is exclaiming to the heavens.
"Take me to the dance! Kick up your heels!"
We've also got the time in which Kevin Harlan was doing play-by-play of a car promo while pretending Craig Sager was the driver or passenger or guy hanging out in the backseat of the car.
Part of the reason doing the Rabbit Hole posts are so fun is because you find incredibly weird stuff that people have put together. Like this Taylor Swift song snippet that "features" Kevin Harlan.
And how was this call not included in the "best of" tribute?
We need someone to go back and get a better quality version of that play then include it with those video of his best calls. That's your homework/assignment for the weekend.
The time Shawn Bradley got baptized by Tracy McGrady
The play that stands out the most from the Harlan calls is definitely the Tracy McGrady dunk on Shawn Bradley. There were times in which Bradley was a decently effective role player. There were also times in which he was essentially Yi Jianlin's workout chair. There have been some phenomenal plays against Bradley, but this plus the call from Harlan definitely takes the cake that is being shoved in Bradley's grill.
It's just so good. Every time. It's even better when you have Harlan and T-Mac recounting the dunk while talking about how it was a nice way to send Bradley into retirement.
While the dunk was great, here is my favorite part of the play. It's the reaction from the bench that actually has someone falling onto the court. I need this palindrome .gif style: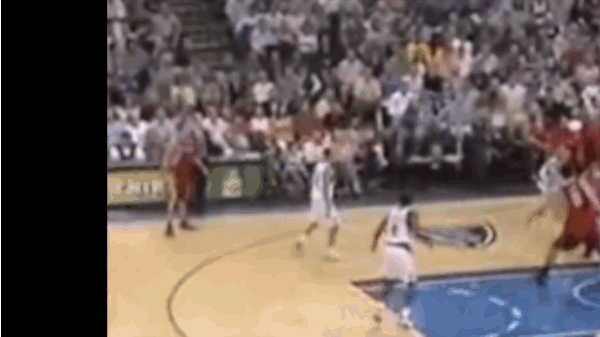 Amazing.
You know what's always fun? People dunking on Shawn Bradley
There have been plenty of other guys that have yakked on the big fella from BYU.
We've got Eddie Jones dunking on Shawn Bradley (two times) way back in the day with the late, great Chick Hearn on the call.
The first one was just an appetizer and the second one was the salad, dinner, and dessert.
We also have Chris Webber going around and then through Bradley, and it's almost as if the 7'6" center isn't even on the court in Webber's mind. He did this too easily.
The quality of the video isn't spectacular in this Keon Clark dunk on Bradley, but the replay angles are a lot of fun.
You have Kevin Garnett reaching way back before he throws down:
You had Shaq doing a much better version of the reach back dunk against Bradley than what KG was able to do:
By the way, let's take a look at the career head-to-head matchup numbers between Shawn Bradley and Shaquille O'Neal because maybe it was more of an even contest than we just assume AND OH MY GOD THERE IS SO MUCH CARNAGE!
There may have even been bounties for dunking on Bradley back in his college days because a guy named Josh Grant had no problem challenging the stick figure in front of him.
But you know what? Shawn Bradley will have his revenge -- in this life or the next!
Sing it, Luther!
Shawn Bradley being interviewed by Andy Rooney is all of the yes
One man is 5'6" and the other is 7'6", but apparently they weigh the same. How do I know this? You're going to have to watch a feature from "60 Minutes" on life as an abnormally tall person like Shawn Bradley has led.
How did we not turn this duo into a buddy cop movie franchise? Officer Rooney on a bicycle and Officer Bradley on a police horse? It's a shame this was never able to happen.
Shawn Bradley on a sketch comedy show for BYU TV. That is all.
There are certain things you knowingly seek out when you're traipsing through YouTube pages of Shawn Bradley material. Shawn Bradley being climbed on by an angel on a BYU sketch comedy show is not something you know is out there. But once you find it, you never want to let it go.
There are no words.