Report: League injuries not statistically higher this season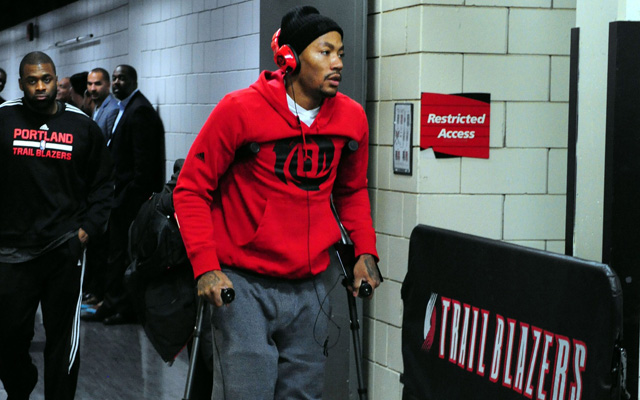 Derrick Rose, Kobe Bryant, Rajon Rondo, Marc Gasol, Tyson Chandler, Al Horford, Brook Lopez, Russell Westbrook, Pau Gasol, Andre Iguodala, JaVale McGee, J.J. Redick, Anthony Davis, Chase Budinger, Emeka Okafor, Larry Sanders... these are just the players off the top of my head who have missed a week or more of time with injuries this season. But Bleacher Report reports that the league denies that this has been a significant year for injuries.
A league spokesperson told Bleacher Report on Saturday that a preliminary analysis of "significant" injuries, defined as those forcing a player to miss 10 or more games, shows that they are trending at a similar rate compared to the last five seasons through roughly the first two months of play.

When several superstars go down, such as Rose, Bryant and Westbrook, it can give the impression that things are worse than they really are.

The spokesperson said that the league didn't track injuries as closely before 2008 and that it doesn't have detailed data available as far back as 2000.

Given that limited range, the league pointed to 2010-11 as being one of the biggest seasons for significant injuries. There was Andrew Bynum (meniscus tear in right knee), Yao Ming (stress fracture in left ankle), Joakim Noah (torn ulna collateral ligament in right thumb), Shaquille O'Neal (right leg injuries), Brandon Roy (both leg injuries), Anderson Varejao (torn tendon in right ankle) and David West (ACL tear in left knee).

The season before that was also noteworthy, as these marquee players were sidelined: Blake Griffin (stress fracture in left knee), Tracy McGrady (microfracture surgery on left knee), Yao Ming (broken bone in left foot) and Michael Redd (ACL and MCL re-tears in left knee).

The league spokesperson also disputed recent reports that suggest ACL tears are on the rise, saying the league's averaged about 4.5 per season over the past seven years, with no more than five in a year and no less than three.
via NBA Trends: 'Significant' Injuries Aren't Up, but Work to Do on Prevention | Bleacher Report.
So that's comforting. There aren't more injuries, just lots to the impact players you care about. In reality, that is the most important thing since the league can't control which players suffer injuries.
Still, the number of lost seasons for big-name players makes you wonder if the league wouldn't be better of sacrificing some revenue to cut down on the number of games and give the players more rest and fewer back-to-backs.
But then, wondering if the league would accept revenue cutbacks is like wondering if you would. So probably not.
Ken Berger of CBSSports.com reported on Christmas that some league execs are starting to wonder if something needs to be done about injuries, and questioned how any statistical analysis is really going to get to the heart of the matter:
Actually, sources say there has been some conversation among team executives about bringing the injury dilemma to the attention of the league office to see if there's anything to it -- and if so, discuss solutions. No teams have formally complained to the league as of yet about injury concerns, but sources say that's coming after the New Year.

Here are the facts, as we know them: Although there is no complete data on the subject and more study is required, there is no preliminary indication that injuries resulting in 10 or more games missed are on the rise, league sources say. In fact, at roughly the one-third mark of the regular season -- through games of Dec. 23 -- injuries resulting in 10 or more, 20 or more and 30 or more games missed are all at or below the recorded figures at the same point in the previous four seasons (excluding the lockout-shortened year of 2011-12).

Of course, figures recorded in an arbitrary midseason snapshot are not terribly valuable, as there are a lot of games to be played. Also, there's a certain amount of guesswork involved. For example, a player who is currently expected to miss more than 10 games may miss fewer; a player expected to miss fewer than 20 games may miss more.

The point is, any statistical snapshot at a given point in the season is, by definition, incomplete. But taking all those flaws into account, long-term injuries at this point in the regular season do not appear to be up. If anything, they may be down.
via Injuries put coal in NBA's Christmas stocking - CBSSports.com.