Thomas Robinson yells 'lunch meat' whenever Aldridge gets the ball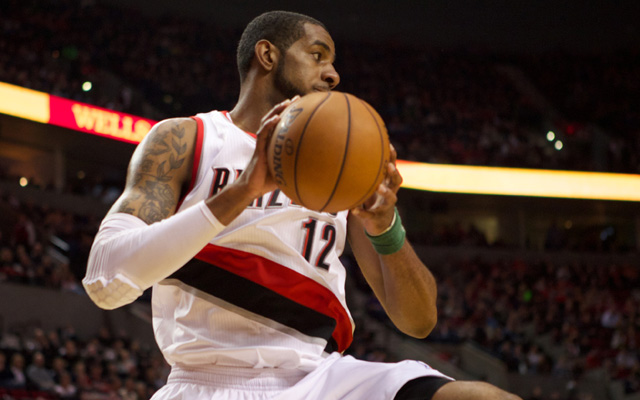 It started with a tweet about the Trail Blazers' LaMarcus Aldridge .
I believe @Trobinson0 is yelling "lunch meat" every time Aldridge touches the ball against Josh McRoberts.

— Bruce Ely (@bruceely) January 3, 2014
Blazers Edge followed up with Robinson:
Lunch meat, it turns out, is exactly what Robinson was yelling.

"Lunch meat," Robinson explained to Blazersedge, smiling. "Whatchu do when you got some lunch meat? You eat it. Exactly! Whenever someone [is guarding Aldridge], he's always eating. He's L.A. Whenever somebody on him, he eat him. Lunch meat. That's how it is."

Post defenders are being reduced to nothing more than lifeless strips of bologna, waiting to be consumed.

"There's no one that can really stop him one-on-one on the block, let alone anywhere on the court," Leonard told Blazersedge. "L.A. is so skilled. It basically just means that L.A. is about to get a bucket. He's eating."

Even better, the "lunch meat" cry -- which almost amounts to celebratory pity, if such a thing exists -- is being heard loud and clear on the court.

"It means the guy can't guard me," Aldridge sheepishly told Blazersedge. "That I'm going to score at will. It's not that simple when I'm doing it. They say it looks that easy sometimes. It's fine, but I'm not going to get into it, I'm not going to say it myself."
via Media Row Report: Blazers 134, Bobcats 104 - Blazer's Edge.
OK, that's pretty awesome. If this were he 90's, we'd have a poster of Aldridge in an apron covered in blood and a cleaver and he'd be called "The Butcher." Note: It's a good thing this isn't the 90's. But that's still a pretty awesome thing to think about whenever LMA gets the ball. You gotta wonder if he prefers ham or roast beef, or if he's more of a turkey guy. Josh McRoberts is definitely turkey, right?
Aldridge is averaging 23.2 points and 11.0 rebounds per game this season.