Report: Grizzlies, Celtics in advanced talks for Bayless-Lee trade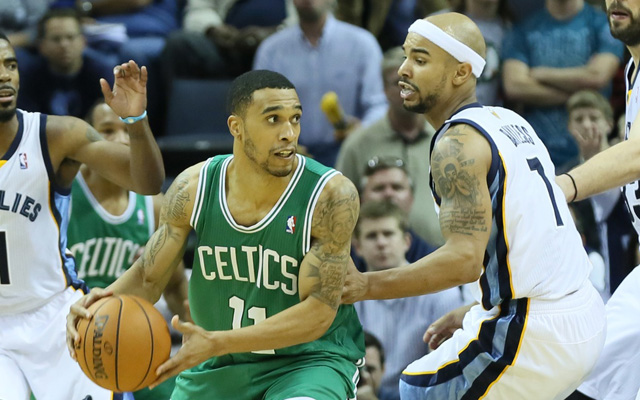 ESPN first reported and USA Today has confirmed the Memphis Grizzlies and Boston Celtics are in advanced talks for a trade that would send Jerryd Bayless to Boston in exchange for wing Courtney Lee.
Boston Celtics, I'm told, are in advanced discussions on a trade to acquire Jerryd Bayles from Memphis in a deal involving Courtney Lee

— Marc Stein (@ESPNSteinLine) January 5, 2014
As @ESPNSteinLine reports, Boston-Memphis discussing Courtney Lee-Jerryd Bayless swap.I'm told other pieces may be involved if it progresses

— Sam Amick (@sam_amick) January 5, 2014
Re: Stein report on Grizz dealing for Courtney Lee... Lee was client of both Jason Levien and Stu Lash when they were agents

— Chris Vernon (@ChrisVernonShow) January 5, 2014
Bayless is an expiring contract at $3.1 million, while Lee has two more years at over $11 million total, so this saves Boston both years and money, two priorities for a team looking at a rebuild. Bayless would also provide them with a legitimate point guard. As good as Jordan Crawford has been, that would still be nice until Rajon Rondo gets back.
Bayless was benched in the second half vs. Denver on Friday, with Nick Calathes playing... not well in reserve behind Mike Conley. The Grizzlies' biggest need however is a wing who can stretch the floor and make a jumpshot. Lee is shooting 44 percent from three this year for Boston, averaging 7.4 points and 1.6 assists.
Bayless is averaging 8.0 points and 2.0 assists for Memphis.
Update: The deal is reportedly moving forward.
Trade call on Boston's looming acquisition of Jerryd Bayless for Courtney Lee, I'm told, is being scheduled for Monday. Deal is happening

— Marc Stein (@ESPNSteinLine) January 5, 2014
Brad Stevens on Courtney Lee: "Probably won't play, but that's as far as I'll go on that."

— Royce Young (@royceyoung) January 5, 2014