After Luol Deng trade, Bulls look to a promising future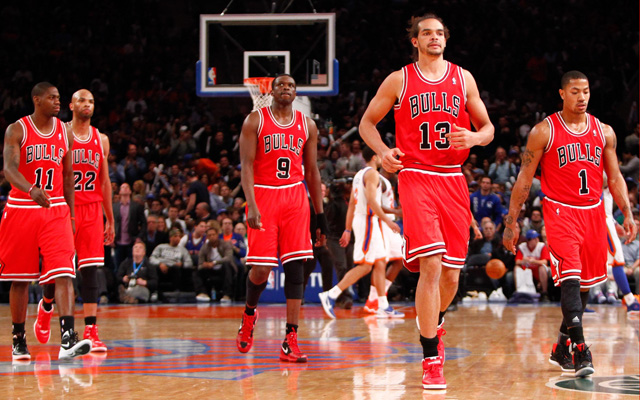 The Bulls gave up the ghost.
Instead of holding on by their fingernails to the idea of this Bulls team fighting and clawing their way to another playoff appearance, inevitably leading to another admirable, but ultimately unsatisfying demise, they smashed the emergency glass and pulled the switch.
"In case of emergency, trade Deng and amnesty Boozer."
The two moves that have been rumored since Derrick Rose went down with his second knee surgery in two years were to trade Luol Deng after he and the Bulls failed to come to terms on an extension this season before he becomes an unrestricted free agency this summer and to use the amnesty provision to waive Carlos Boozer. On Monday night, the Bulls made the first move. This was the point of no return. It was the eject button. There's no turning back.
They've traded their non-Rose All-Star, an elite defender and talented offensive player. They moved a locker room leader and a guy who played through torn wrist ligaments and multiple minor injuries, and who tried to come back from a serious illness after a spinal tap last spring. And they moved him for a player who reportedly doesn't want to play basketball and will be waived, along with multiple draft picks which are so protected, they're essentially guaranteed to never touch the top ten.
So why would they do such a thing?
Because they have the opportunity to reform the team in any number of ways. They simply had to free themselves from the failed idea they put together in 2010. That didn't come easy, it took time to find the right deal. But now the future is pretty set... in that it's wide open.
The next piece is to use the amnesty waiver on Boozer. It's assumed the Bulls will wait till the summer to pull the plug, as there's no short-term value in cutting Boozer now. (The Bulls would still have to pay Boozer his $15.3 million this season.) But regardless of when they pull the trigger, the key is what that means for the future.
Via Storytellers.com, the Bulls are on the books for a little under $64.9 milllion in 2014-2015. Take that figure, subtract Boozer's $16.8 million he's on the cap for next seaoson, then subtract the result from the projected cap number of $62.1 million for 2014-2015 and you have a little over $14 million in cap space this summer for the Bulls.
If that sounds a little light for an offer to LeBron James, that's because it is.
The Bulls also have to pay a buyout for talented Euro stash center Nikola Mirotic. Pairing Mirotic with Noah gives them an instant combination that will only improve. Should Rose return, which the Bulls have essentially no choice but to bank on, he, Noah, Mirotic, and Jimmy Butler along with Taj Gibson forms a core for them to build around.
What they do then is where things get interesting. If the Bulls traded Gibson ($8.5 million in 2014-2015) or Noah ($12.2 million in 2014-2015), they would clear enough room for the Mirotic buyout and be able to make a max contract offer to a free agent.
Like, say, Carmelo Anthony.
Yes, indeed, the Bulls have already been linked with a possible run at Melo should he opt out. If anyone could get Anthony to play solid defense, or at least cover up his shortcomings, it's Tom Thibodeau... assuming the goings on in Chicago dont drive Thibs out within the year. And while Anthony has a salary ceiling of over $23.1 million, should he opt to take any paycut to try and replicate James' success in sacrificing to make the team better, along with Rose...
(OK, that's probably not happening. There's been no indication that Anthony will elect for anything but the optimum financial benefit. But you want to give his competitive instincts the benefit of the doubt if we're speculating to begin with.)
But even if the Bulls don't go that route, they'll have cap room to add players around Rose. They'll also have the Kings' heavily-protected first-round pick, the right to swap with Cleveland in 2015, and multiple second-round picks, along with what could be Charlotte's pick this year or next. Should they decide to target a player for an upgrade through trade (say, one of the 2015 free agents who pressure their teams to move them before they leave in free agency), they'll be in a unique option to offer both young talent (Butler, Tony Snell, Mirotic, Gibso) and high-value draft picks.
The hard part will be to get over what could have been. The Rose-Boozer-Deng-Noah core won at a 62-game pace twice. They were supposed to compete for a title this season, to knock off Miami and end the Heat's mini-dynasty. Instead it all crumbled when Rose went down again. But instead of holding onto the idea and constantly trying with the same decomposing pieces, they elected for a fresh spring and a new start.
It just so happens that the next crop cannot come without burning the field. Chicago's starting over. Trading Luol Deng was the end of an era. It's also the start of whatever comes next for the Bulls.
Now... about Derrick Rose getting healthy...