Lakers' Pau Gasol is getting an MRI on his sore left foot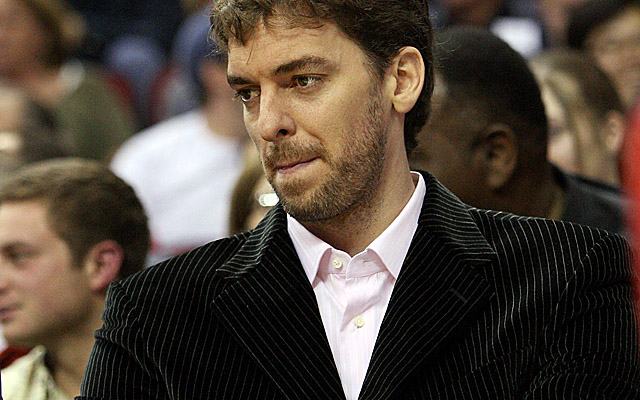 The Los Angeles Lakers may be the one team that suffers countless injuries throughout the regular season. We've seen teams like the Minnesota Timberwolves and the Portland Trail Blazers go through this frustration in the past few seasons, but this year appears to be the Lakers' turn. Pau Gasol is the latest injured Lakers' player to need further medical evaluation, this time on his left foot.
Gasol has been battling a sore left foot recently and underwent an MRI on on Monday to find out if there is an apparent injury going on. The Lakers are down so many players that they've had to call on assistant coaches and video coordinators just to get a 5-on-5 game in practice. From ESPN Los Angeles:
The Los Angeles Lakers' injury woes continued Monday as Pau Gasolunderwent an MRI on his sore left foot.

Gasol suffered the injury in Friday's 123-87 loss to the Los Angeles Clippers. The 13-year veteran is averaging 15.6 points, 9.6 rebounds, 3.4 assists and shooting a career-low 44.8 percent from the floor this season.

Results of the MRI are expected sometime Monday afternoon.

With Gasol out of Monday's practice, the Lakers were down to eight healthy players for the session. Lakers assistant coach, Mark Madsen, and video coordinator, J.J. Outlaw, filled in to give the team enough bodies to field a 5-on-5 game.
According to Dave McMenamin of ESPN Los Angeles, Nick Young joked that Outlaw (video coordinator) was going to get a 10-day contract from the team and Madsen was going to come out of retirement to join the team.
Gasol battled tendinitis in both knees last season and later was diagnosed with plantar fasciitis in his right foot. Having problems in his left foot now would be a frustrating injury for Gasol because of all the leg and foot injuries he's had to deal with in recent years. He's currently averaging 15.6 points, 9.6 rebounds, and 3.4 assists while shooting 44.8 percent from the field.