Dwight Howard says NBA asked, but he won't return to dunk contest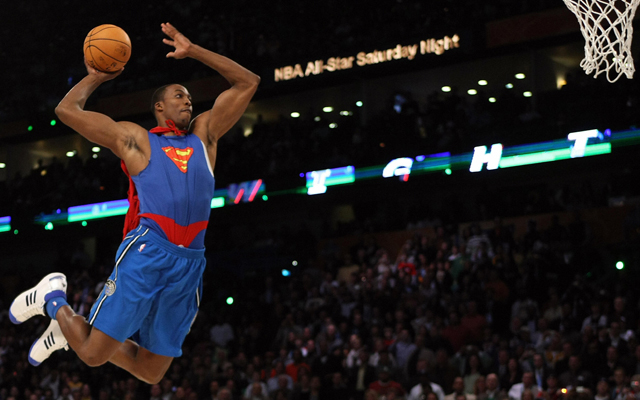 Dwight Howard put on an iconic dunk contest performance the last time the All-Star Game was in New Orleans. That was the one where he did the whole cape thing. In reality, it's a shame that he gets his performance downgraded for the cartoonish final dunk. Because his whole series of reps was pretty great.
The event is back in New Orleans this year, so could we see a return of Superman? Nope. From the Houston Chronicle:
Howard, who won the 2008 dunk contest at New Orleans Arena, said the NBA invited him to dunk again this season in New Orleans, but he declined.

"Couldn't do it," Howard said.

Howard, 28, said he would participate again, "If I wasn't so old. I'm getting up there in age, man, I tell you. I got a lot of years."

Howard, however, said he had thought about that night just because with the return to New Orleans.

"It was a night to remember," Howard said. "It was probably one of the best memories of me being in the NBA being in the dunk contest here in New Orleans. The fans were amazing here. Every time I come in this building, I get chills thinking about it."

"I remember that whole experience," Howard said. "Being here, the fans were amazing. I saw in past years, nobody tried to really engage the crowd. I like to entertain. I tried to really engage the fans, give them something they'll remember."
via Ultimate Rockets » Dwight Howard was invited, but won't reprise his 'super' New Orleans dunk show.
Can't blame Howard. On top of the miles, and the back surgery he had a little under two years ago, Howard's also maxed out the best stuff he can bring to the event. It should be an event for young stars.
A quick list of guys who should be under consideration: Gerald Green (not young, but a fantastic dunker, and probably should have won for the cupcake dunk in 2008), Ben McLemore, Quincy Miller, Victor Oladipo, Derrick Williams, and Tony Mitchell.