Carmelo Anthony calls out Mike Woodson for lack of adjustments?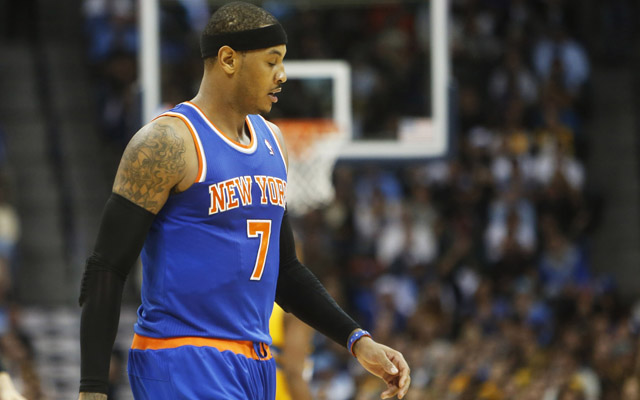 The Knicks got rolled by the Pacers on Thursday, and Carmelo Anthony didn't like the way the team didn't adjust after halftime.
"They made adjustments the way they played the pick-and-roll, the way they packed the paint and stayed with our 3-point shooters,'' Anthony told reporters after the game. "They made that adjustment. We didn't make the adjustment back to it."
So this begs an obvious question: Is Melo speaking in general terms that "we" as in team didn't make the proper adjustments, or is the "we" in this circumstance more directed at Mike Woodson?
It seems possible, even likely, that Melo would be referring to Woodson, considering how rocky things have been between the embattled coach and his roster this season. Still, even with frustrations running hot after a blowout loss on national television, throwing your coach under the bus and blaming him for getting outcoached seems a bit rash.
The Knicks were humiliated, and they were all kind of just saying things.
"It's an embarrassing loss," Melo said after the game. "I don't think no team is 30 points better than us. No way I believe they're 30 points better than us. I don't accept that. It was a frustrating loss. You're on the road. I felt we could've played a lot better and harder. This was a big game against a big-time team and we didn't bring it."
There a lot of issues with the Knicks right now, and making adjustments, whatever those might've been, wouldn't have saved them from getting whipped by the Pacers on Thursday. It's a simple fact that Indiana has a far better basketball team. It's hard to make an adjustment when the roster across from yours is superior.
The Knicks have been playing better basketball as of late, winning six of their last 10. So now is not the time to start sniping at people in the media. Just play the game, and do your job.