DeAndre Jordan wants to be in dunk contest if he's an All-Star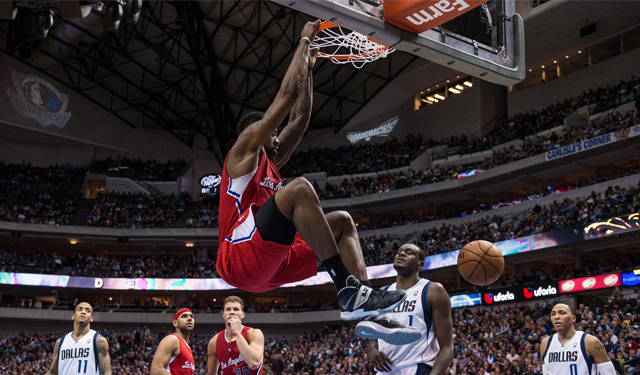 Los Angeles Clippers' center DeAndre Jordan has been enjoying the best season of his young career. Under the tutelage of Doc Rivers, he's earned the trust to play at the end of games, unlike his time under Vinny Del Negro. He's played 35.4 minutes per game, and averaged career-highs of 9.5 points, 13.5 rebounds, and 2.5 blocks. He's currently the league's leading rebounder.
Jordan is still known most for his incredible leaping ability that has resulted in some spectacular highlights. It's part of the reason the NBA apparently wants him in the dunk contest in New Orleans this season. Jordan is willing to participate in the contest but he has one stipulation. He wants to be an All-Star if he's going to participate in the dunk contest. He doesn't want to be a part of the weekend as just a dunker, according to Broderick Turner of the LA Times:
DeAndre Jordan wants to be in the All-Star game as a participant, not just as a dunker.

So when NBA officials approached the Clippers' center before Friday's game about being in the dunk contest, Jordan told them what his true wish was.

"I just told them I wanted to see what happens," Jordan said. "I'm not trying to disrespect them. But I want to be in the All-Star game as a player and not just as a dunker."
It makes sense if you're Jordan. He's having by far the best season of his career and has been an integral part of a really good team in the tough Western Conference. His raw statistics are about as good as any center that will be in consideration for being selected as an All-Star reserve, but the question of how much he actually impacts the game could keep him from making the team.
Most of us would still like him to accept the alleged invitation by the league, even if he doesn't make the All-Star team. His inclusion in the game seems like a long shot with so many deserving star players in the West. Seeing what he can do in the dunk contest could bring back flashes of what Dwight Howard did years ago.