LeBron James, Kevin Durant highlight Team USA's 28-man roster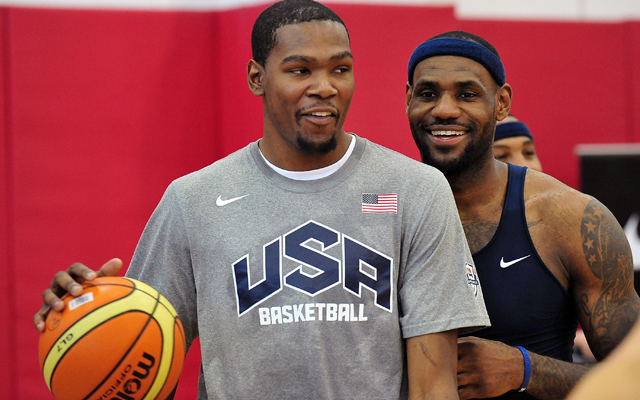 With the calendar turned to 2014, national basketball teams are starting to prepare for the 2014 FIBA World Championships in Spain. From those World Championship games, we'll start to know which teams will compete in the 2016 Summer Olympics in Rio de Janeiro. Team USA Basketball officially announced Thursday the pool of 28 players that will make up their national team roster for the next two world tournaments.
Players like LeBron James, Carmelo Anthony, Chris Paul, and Deron Williams will likely get a chance to win their third Olympic gold medal. Kevin Durant, Tyson Chandler, Anthony Davis, James Harden, Andre Iguodala, Kevin Love, Russell Westbrook, and Dwight Howard will get a chance to win their second gold medal, as they remain in the pool of players. 16 players will get the opportunity to compete on the 12-man Olympic squad for the first time. From Team USA:
Returning to the USA National Team for 2014-16 are three-time Olympic medalists and two-time Olympic gold medalists Carmelo Anthony (New York Knicks) and LeBron James (Miami Heat); two-time Olympic gold medalists Chris Paul (Los Angeles Clippers); and Deron Williams (Brooklyn Nets); 2012 Olympic gold medalists Tyson Chandler (New York Knicks); Anthony Davis (New Orleans Pelicans); Kevin Durant(Oklahoma City Thunder); James Harden (Houston Rockets); Andre Iguodala (Golden State Warriors); Kevin Love (Minnesota Timberwolves); Russell Westbrook (Oklahoma City Thunder); 2008 Olympic gold medalistDwight Howard (Houston Rockets), as well as Blake Griffin (Los Angeles Clippers), who was originally named to the 2012 U.S. Olympic Team roster but was unable to participate because of an injury.

Returning to national team roster after capturing gold at the 2010 FIBA World Championship are Chandler,Stephen Curry (Golden State Warriors); Durant, Iguodala, Love, Derrick Rose (Chicago Bulls), and Westbrook.

Completing the USA National Team roster are NBA standouts LaMarcus Aldridge (Portland Trail Blazers);Bradley Beal (Washington Wizards); DeMarcus Cousins (Sacramento Kings); Andre Drummond (Detroit Pistons); Kenneth Faried (Denver Nuggets); Paul George (Indiana Pacers); Gordon Hayward (Utah Jazz);Kyrie Irving (Cleveland Cavaliers); Kyle Korver (Atlanta Hawks); David Lee (Golden State Warriors); Kawhi Leonard (San Antonio Spurs); Damian Lillard (Portland Trail Blazers); and Klay Thompson (Golden State Warriors).
Stephen Curry, Derrick Rose, LaMarcus Aldridge, DeMarcus Cousins, Paul George, and Kyrie Irving are the six biggest stars with a chance to make the FIBA roster this summer while some of the more seasoned players take the competition off, giving them a big case for joining the squad for 2016 in Rio de Janeiro. Blake Griffin was originally on the 2012 team that won the gold medal in London, but didn't get to compete because of a meniscus tear.
It's interesting to see more role player type of guys get the nod over someone like John Wall. Even Wall's own teammate Bradley Beal made the initial pool over the Washington Wizards point guard.