2014 NBA All-Star starters: Kobe, Love, Curry in; Howard out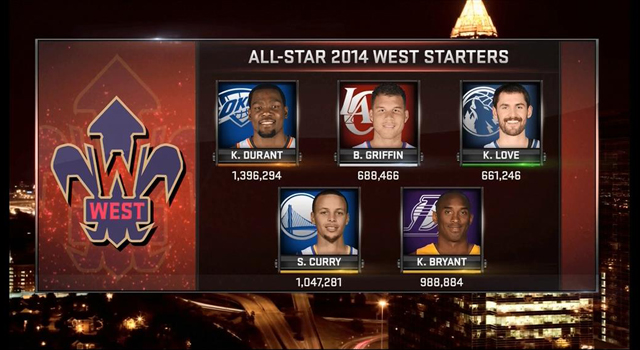 The 2014 NBA All-Stars were announced Thursday night on TNT's "Inside the NBA."
2014 NBA All-Star Game Starting Lineups
EAST
Kyrie Irving, G
Cavaliers
Selections: 2
Dwyane Wade, G
Heat
Selections: 10
LeBron James, F
Heat
Selections: 10
Paul George, F
Pacers
Selections: 2
Carmelo Anthony, F
Knicks
Selections: 7
WEST
Stephen Curry, G
Warriors
Selections: 1
Kobe Bryant, G
Lakers
Selections: 16
Kevin Durant, F
Thunder
Selections: 5
Blake Griffin, F
Clippers
Selections: 4
Kevin Love, F
Timberwolves
Selections: 3
The big takeaways are that Curry overtook Chris Paul for starter status, but more importantly, Kevin Love took Dwight Howard's spot. It was believed he would overtake Griffin, but instead it's Howard that drops out. It's a massive upset that leaves questions about the hit a player takes in popularity when they leave the Lakers, and a changing perception of exactly how dominant Howard is. Huge upset.