Rockets GM Morey says Asik likely to finish contract with Houston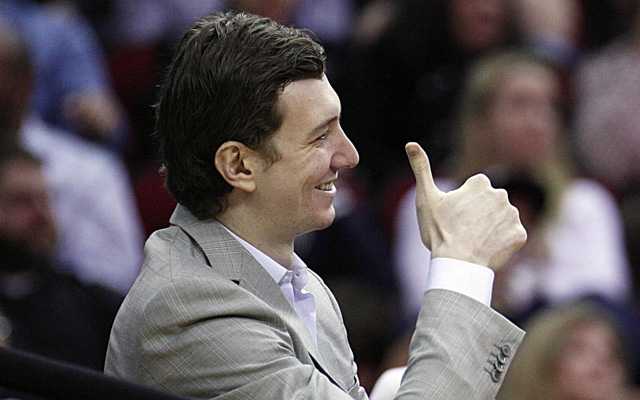 Rockets GM Daryl Morey told season-ticket holders Friday that they expect Omer Asik to remain a Rocket for the duration of his contract, not just this season. The veteran center signed with Houston in 2012 expecting to be the starting center, a situation that altered when the Rockets signed Dwight Howard last summer. An upset Asik demanded a trade, then reasserted that request earlier this season. The Rockets attempted to trade the Turkish big man, even setting a deadline, but saw no offer good enough to prompt a move.
Asik hasn't played a game since Dec. 2. From ClutchFans.net:
"We pushed to trade Omer in December," said Morey. "We felt we had to make a fair and aggressive effort to do that. Obviously, he'd prefer to be a starter.

"At this point, Omer is very likely going to be here until the end of his contract at the end of next season, not this season. The window to trade him was [in December], and teams weren't aggressive enough to get him, so we're excited about him being a part of our future."
via Morey Q&A: Expect Asik to remain a Rocket throughout contract | Houston Rockets Blog | ClutchFans.
Is this lip service? Could be. He could honestly be telling the truth and then an offer could come through at the deadline. Is Morey really going to let Asik just sit there, collecting money in a year in which they need to establish some early success with Howard and James Harden? Is he just going to let a talented asset waste away, hoping the player will come back aboard and be productive in a limited role? Seems unlikely, but stranger things have happened.
The problem, of course, lies in Asik's poison pill. He's only on the cap for $8 million next season, but his actual salary is $15 million. That's like a tax just for trading for him. A disgruntled, offensively-limited player with a $15 million poison pill isn't exactly going to have guys falling over to blow Morey away with an offer, but Morey also can't take a bath on such a valuable player in trade.
So the stalemate continues, and lip service or not, Asik's trade prospects have flatlined.